When Prince Harry 'snapped' at Meghan Markle in heated fight: 'I became touchy and angry, maybe the wine…'
Jan 07, 2023 10:56 AM IST
In his forthcoming memoir Spare, Prince Harry recalls a heated argument with wife Meghan Markle that led him to seek therapy.
Prince Harry has recalled a heated argument with wife Meghan Markle that immediately led him to seek therapy. In his forthcoming memoir, Spare, Prince Harry is shedding light on the toll it took on his relationship with wife Meghan Markle after he 'snapped' at her, when a conversation took an unexpected turn. The turn of events led Prince Harry to seek therapy in order to resolve his issues. (Also read: Prince Harry takes a dig at Prince William's 'alarming' hair loss in his memoir)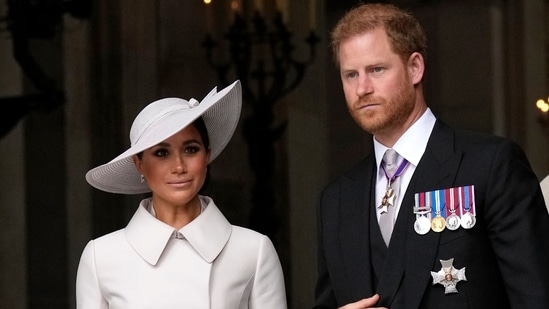 Harry also detailed the reaction from Meghan, with whom he shares son Archie, 3, and daughter Lilibet, 19 months, and how she walked out of the room at that point and later made it very clear that she would not tolerate being spoken to like that. Harry added that Meghan was clear that she would not raise her children in an atmosphere that breeds such anger and disrespect.
In the excerpt from the memoir Spare, which was published by Us Weekly, Prince Harry talked about the time he snapped at his wife Meghan Markle, whom he married in May 2018. "Maybe the wine went to my head. Maybe the weeks of battling the press had worn me down. For some reason, when the conversation took an unexpected turn, I became touchy. Then angry. Disproportionately, sloppily angry... I was also just over-sensitive that night. I thought: 'Why's she having a go at me?' I snapped at her, spoke to her harshly [and] cruelly. As the words left my mouth, I could feel everything in the room come to a stop. The gravy stopped bubbling, the molecules of air stopped orbiting. Even Nina Simone seemed to pause," wrote the 38-year-old royal.
Harry then goes on to admit that he knew that the anger in his outburst was not stemming out just from their conversation alone. "It came from somewhere deep inside, somewhere that needed to be excavated, and it was obvious that I could use some help with the job... 'I've tried therapy,' I told her. 'Willy told me to go. Never found the right person.' [It] didn't work. 'No,' she said softly. 'Try again.'" Harry recalled, referencing his brother Prince William, whom he addresses as Willy.
Prince Harry has been an advocate for therapy and has revealed earlier how seeking therapy had helped him in regaining confidence. In the new book, Harry also mentions that William physically attacked him during a furious argument over Harry's marriage to Meghan Markle in London. Since Meghan and Harry announced in January 2020 that they would step down as senior working royals, they have been open about their life in the royal family. They were recently seen in the Netflix docuseries, Harry and Meghan.