Priyanka Chopra, Nick Jonas LA reception: Here's what the bride could wear
Priyanka Chopra and Nick Jonas are hosting a reception in Los Angeles on Sunday. Will Priyanka wear a sleek, form-fitted gown for her final wedding reception? The celebration is for their Hollywood friends, after all.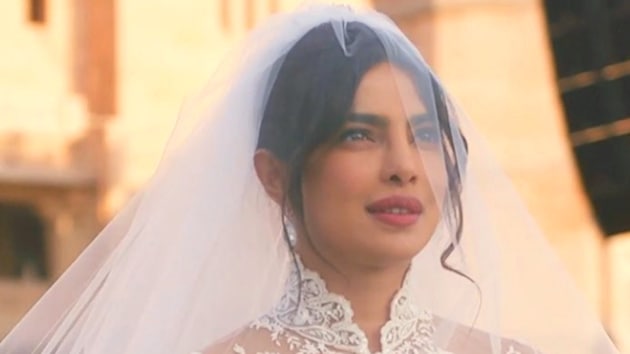 Updated on Dec 24, 2018 11:01 AM IST
You may have thought Priyanka Chopra and Nick Jonas' wedding festivities were over, and aren't you glad that you were wrong. There's another reception that the couple is hosting in Los Angeles in the last week of January. Priyanka and Nick had two wedding ceremonies on December 1 and 2, and later they held a reception in Delhi, attended by Prime Minister Narendra Modi. On December 19 and 20, Priyanka and Nick celebrated their love with two more receptions in Mumbai, with a number of high profile guests from Bollywood, including, newlyweds Deepika Padukone and Ranveer Singh, Salman Khan, Katrina Kaif, Anushka Sharma and Kangana Ranaut. So perhaps it makes sense that actor Priyanka Chopra and signer Nick Jonas host one more wedding reception in the groom's home country, the US. According to details coming together, the couple's guest list for the black-tie event includes, "Priyanka's close friends Kerry Washington, Dwayne Johnson, Ellen DeGeneres, and the Duchess of Sussex Meghan Markle."
Priyanka Chopra wearing Falguni Shane Peacock at Delhi reception.
Priyanka Chopra wearing Sabyasachi at first Mumbai reception.
Priyanka Chopra wearing Abu Jani Sandeep Khosla at second Mumbai reception.

While Priyanka Chopra has yet to reveal who will be her designer for the LA reception, we have a good feeling she will wear something eye-catching, equally enchanting, but totally different from her elegant lehengas by Falguni Shane Peacock, Sabyasachi and Abu Jani Sandeep Khosla, for the Delhi and Mumbai receptions, respectively. Will Priyanka flaunt her figure in a form-fitted evening gown for the LA reception? All signs are pointing to yes. Priyanka has rocked so many unforgettable gowns in the past couple of years alone and for her big night, she must have access to dresses and jewels from the biggest designers at her disposal. After all, it's safe to say Priyanka is thriving and when you are one of the most talk-about brides of 2018, there are perks.
Priyanka Chopra wearing Ralph Lauren at Met Gala.
Priyanka Chopra wearing Ralph Lauren at her wedding.
So, will Priyanka Chopra be wearing Ralph Lauren, the same designer worn by her when she married Nick Jonas in Jodhpur's Umaid Bhawan Palace? Needless to say, Ralph Lauren is clearly a part of Nick and Priyanka's relationship timeline, so we weren't that surprised when the designer created her custom wedding dress. It was at Met Gala 2017 that Ralph Lauren dressed Priyanka in the most showstopping look: A trench gown, equipped with a long train, that quickly became a viral internet meme and was conveniently shortened into an after-party mini-dress. While we can say a Ralph Lauren gown will presumably be sentimental to the newlywed and could just make her reception outfit choice all the more special, we're sure Priyanka's reception dress will be full of wedding glamour, no matter, who the designer. What will Priyanka Chopra's LA reception dress look like? With this in mind, we've pulled together a list of eight cool designer looks Priyanka Chopra could choose, each guaranteed to satisfy her sexy and sophisticated style:
Close Story