This is the healthiest cooking oil for weight loss, say dieticians. No, it's not olive oil
If you are looking for a diet to lose weight, you must pick a cooking oil that has the least amount of saturated fat in it. Coconut and canola oils are your best bets.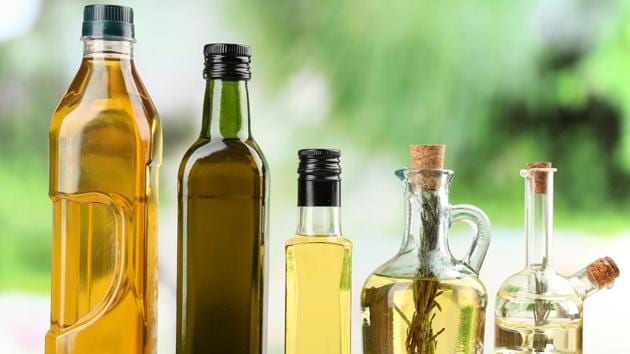 Updated on May 09, 2018 12:53 PM IST
If you, like me, shop in supermarkets (no online carts for me), you may have noticed that olive oil has been advertised as the healthiest option out there. But is it really healthy, considering it is also one of the most heavily discounted oils these days. While that could be for a number of reasons, but it does make me question whether there's anything called healthy when it comes to cooking fats.
"To be honest there is no oil (or any specific kind of food) that promotes fat loss. The only thing that helps is being calorie deficit and adjusting your macros," says Iram Zaidi, nutritionist and fitness consultant.
Oil and weight loss
But this doesn't mean that all cooking oils should be avoided. Here's how you can pick the right one.
According to Pooja Thacker, senior dietician, Bhatia Hospital, one should look at the oil's polyunsaturated and monounsaturated fat content (PUFA and MUFA), as well as omega-6 and omega-3 fatty acid content. "Smoke point—or temperature at which the oil starts to break down—is another factor," she says adding, "MUFA is anti arthrogenic so it is good even when it gets deposited in arteries. It is good for people who have platelet coagulation. MUFA helps prevention of cardiac diseases."
At the same time, PUFA has omega 3, which is anti-inflammatory and prevents diseases such as diabetes and depression. "But it is important to know that no single oil has all good qualities. Thus it is advisable to use a combination of different oils," adds Thacker.
Janvi Chitalia, fitness nutritionist agrees. "The truth about cooking oil is there is no specific oil that can aid fat loss as oil is made of pure fats (1 unit of fat = 9 calories). However, switching from a diet high in saturated fat to one high in monounsaturated fat can help," she says.
Best oils to use for cooking
Though coconut oil and olive oil are considered healthier compared to others, these may not be very suitable for Indian cooking. "Olive oil has a high percentage of Omega 3. But it should not be used for cooking; it can be used for dressing. But you can use olive oil in combination with safflower oil," says Thacker.
Coconut is also considered fairly healthy. "It is easily absorbed by the body and is easy to digest. It can be used in cases of diarrhoea since it is easy to digest. It can also be given to kids," adds Thacker. It is important to note that regardless of the oil you pick, you need to consume it in moderation. "Your overall fat intake should be 20% of your total calorie intake," adds Chitalia.
So, if you're looking to lose weight, it's best to not go overboard with any kind of fats. Everything in moderation is the key to fitness.
Close Story