Keto diet for weight loss, study says it also improves effect of cancer drugs
Keto diet for weight loss: Keto diet, fitness experts claim, is good for weight loss. Now, a new study has concluded that it also helps control insulin levels, prevent glucose and insulin spikes.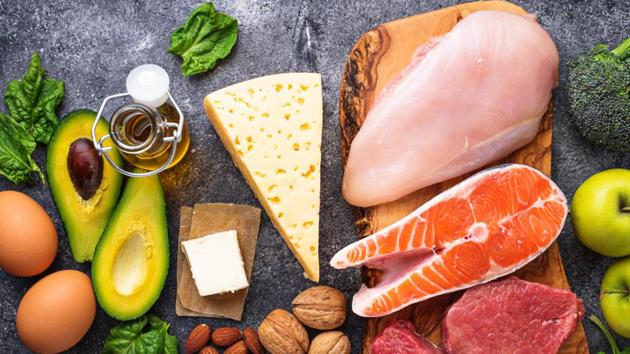 Updated on Jul 10, 2018 07:22 PM IST
If you have been exercise regularly to lose weight, many fitness experts suggest you should follow a keto diet. Low in carbohydrates and high in fats, a ketogenic diet, or keto diet, is good for those who looking to lose weight. It has also been recommended for people who suffer from epilepsy. Now, according to a new research, a ketogenic diet may help improve the effectiveness of an emerging class of cancer drugs, scientists, including one of Indian origin, say. The study found a strategy to boost the tumour-killing potential of therapies targeted on the insulin-activated enzyme, phosphatidylinositol-3 kinase (PI3K) - a family of enzymes involved in cellular functions such as cell growth, proliferation and differentiation.
During the study it was found that, ketogenic diet, which has been used in the clinic for about four decades to control insulin levels, did the best job at preventing glucose and insulin spikes and tamping down tumour growth signals. "The ketogenic diet turned out to be the perfect approach. It reduced glycogen stores, so the mice could not release glucose in response to PI3K inhibition," said Benjamin D Hopkins from Weill Cornell Medicine.
How does keto work?
It works on the basis that when you eat something high in fats, body works harder to turn it into energy. However, when you eat something high in carbs, it turns to glucose which is the easiest to burn. By getting into a state of ketosis, you force body to burn fats stored in our body.
According to a recent study, a keto diet can help increase your life span too. The study, conducted on mice models, showed a 13% increase in median life span for the mice on a high fat versus high carbohydrate diet.
"In humans, that would be seven to 10 years. But equally important, those mice retained quality of health in later life," says nutritionist Jon Ramsey from the University of California - Davis. In addition, the ketogenic diet increased memory and motor function (strength and coordination), and prevented an increase in age-related markers of inflammation.
Follow @htlifeandstyle for more
Close Story