This photo of a dad breastfeeding his newborn is a lesson in shared responsibility
Jul 05, 2018 09:14 AM IST
April Neubauer planned on breastfeeding his newborn daughter immediately after giving birth. However, when she was unable to, nurses suggested her husband take over and use supplemental nursing system to breastfeed their baby.
Maxamillian Neubauer, a new dad from Wisconsin, shared a post with photographs of himself feeding his newborn daughter with a makeshift supplemental nursing system, The Bump reported. In the post, Neubauer explains that his wife April was unable to breastfeed their baby immediately after the delivery due to complications with her C-section.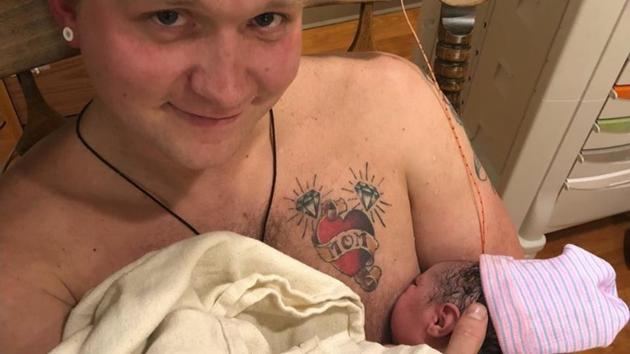 That's when a registered nurse Cybil Martin-Dennehy suggested that they try the supplemental nursing method. "This super rad nurse made an epically killer offer, and I was fortunate enough to slap on a suction cup fake nipple," "Being the first to breast feed da baby!!!!," wrote Neubauer in his post.
Since then, his post has been widely shared by people congratulating him on taking on a very important responsibility of breastfeeding and offering skin-to-skin comfort. Research has proven that when a newborn is breastfed right after birth, she gets the colostrum, the first form of milk which is super nutritious and provides many antibodies to the baby. Neubauer used a suction cup fake nipple to help his daughter suckle on and get milk. Supplemental nursing system is usually an option for mothers who struggle to breastfeed.
Supplemental nursing system is a feeding tube for breastfeeding assistance. It allows a parent to be able to feel and share the closeness of her baby while also giving the benefits of skin-to-skin contact. It is used to increase lactation, induce lactation, for babies with special needs, for premature babies and for mothers with low milk supply.
This is an important lesson for fathers to take on a bigger role right after delivery. Most of the times, mothers tend to feel the most pressure as the demands of a constantly feeding newborn can get to them and also lead to postpartum blues. But when a father can take on the responsibility of feeding a newborn in special conditions, it can offer some relief to the mother. More power to such amazing fathers.
Follow @htlifeandstyle for more
Topics