Australia's Tim Cahill announces international football retirement
Jul 17, 2018 10:58 AM IST
Tim Cahill, who has scored 50 international goals in 107 caps, only made a substitute appearance for Australia in their final group game at the World Cup 2018 in Russia, which ended in a 2-0 loss to Peru.
Australia's leading goal scorer Tim Cahill has retired from international soccer after a frustrating World Cup 2018 tournament in Russia.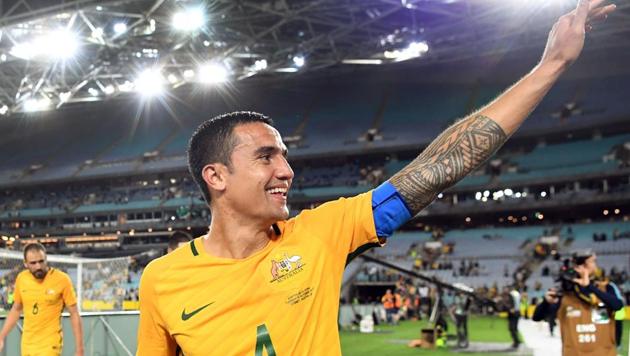 The 38-year-old Cahill, who has scored 50 international goals in 107 caps, only made a substitute appearance for the Socceroos in their final group game at the World Cup in Russia, which ended in a 2-0 loss to Peru.
"Today's the day that I'm officially hanging up my boots on my international career with the Socceroos," Cahill said on his Twitter account on Tuesday. "No words can describe what it has meant to represent my country.
"Massive thank you to everyone for the support throughout all my years wearing the Australian badge."
READ | Post-World Cup final press conference interrupted as France swim in joy
Cahill's decision was hardly unexpected given his age and the fact the Socceroos have a new coach in Graham Arnold as they head into the defence of their Asian Cup title next year in the United Arab Emirates.
He had also struggled to get playing time at club level in the last year, leaving A-league side Melbourne City last December before he signed with English second tier side Millwall -- where he first came to prominence -- in January.
The forward played just 10 games for the south-London side, mostly from the bench and former Socceroos' coach Bert van Marwijk said that while Cahill's talisman presence would be valuable, he was not guaranteed a spot in his World Cup squad.
"He didn't play a lot and it's important that players have rhythm and play," the Dutchman, who was only appointed for the World Cup campaign, said of Cahill's struggles to get regular playing time.
ALSO READ | Didier Deschamps picks win over Argentina as trigger for World Cup triumph
"But there always are exceptions. He's a player who was very important for the national team in the qualification and in the playoffs."
Cahill's ability to score goals at crucial times had emphasised his importance to the side throughout his 14-year international career.
As a substitute he scored twice as the Socceroos beat Japan at the 2006 World Cup in Germany, earning the side their first win at the global showpiece.
Most recently with the team struggling after a marathon qualifying campaign he scored twice, the second an injury-time winner, against Syria last year that propelled the Socceroos into the inter-continental playoff with Honduras.
ALSO READ | FIFA World Cup 2018: France's win is the triumph of the collective
The goals, reminiscent of similar efforts against Qatar and Japan during the 2010 World Cup qualifying campaign, earned him special praise from then Socceroos coach Ange Postecoglou.
"Timmy was Timmy, that's why he's the greatest ever," Postecoglou said at the time. "I said when he broke the hundred games he's just a great Australian sportsman, beyond our sport."
Australia went on to beat Honduras 3-1 on aggregate to make their fourth successive World Cup finals.
Cahill spent much of the tournament in Russia on the bench, but did earn his 107th cap when he replaced Tomi Juric in the second half of their 2-0 loss to the Peruvians.
At the end of the game he was photographed tapping his wrist, which Australian media presciently suggested that "Timmy time" was over.