France coach Didier Deschamps picks win over Argentina as trigger for World Cup triumph
Hindustan Times, Moscow |
Bhargab Sarmah
Jul 16, 2018 06:56 PM IST
France won their second world title beating Croatia in the final and coach Didier Deschamps says a thrilling 4-3 win over Argentina was the trigger for the triumph.
France did it the harder, less attractive way – slogging, grinding and digging out results. But with the World Cup in their bag, they have little to complain about.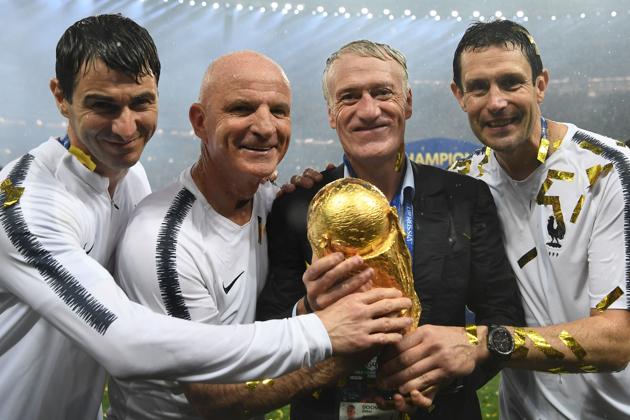 "I know that I am going to be in the history of French football with my team. I don't realise it yet, but our children will be very proud to have our own names," star Antoine Griezmann told reporters after sealing the second World Cup triumph for his country.
If restraint was the watchword till the final whistle, completing a 4-2 win over Croatia that saw France emerge victorious for the second time in three World Cup finals, the gloves were off in a pleasant way as the players burst into celebrations.
"It's the third time I get changed and I still smell just as bad," France coach Didier Deschamps beamed, after his players stormed into his press conference at the Luzhniki Stadium and drenched him in drinks.
"Didier Deschamps, Didier Deschamps," the players, some bare-chested, sang as the coach embraced Griezmann and cameras flashed. France had reached Promised Land again, 20 years after Deschamps had lifted the trophy at the Stade de France as captain of the hosts.
ALSO READ | Vive la France! And a lot of other nations too, as migrant sons lift FIFA World Cup 2018
Paul Pogba stayed back a brief while after his teammates had left. "Sorry guys," he smiled at reporters in the front row who had soaked by the celebratory beverage shower on Deschamps. The puppeteer in the France midfield though was unsuccessful trying to clean the coach's desk before slipping out.
"Sorry, they're young and they're happy, they are swimming in happiness," Deschamps laughed. "Maybe they are going to win other titles, and of course I don't want to undermine any of the titles, but world champion – when you are a professional footballer – there is nothing above that."
Argentina trigger
Deschamps picked the thrilling 4-3 Round of 16 win over Argentina as the trigger for the French triumph "because there was a levelling towards the top… and the small teams, on paper, arrived really, really well prepared athletically.
"The teams who had the highest level of possession, the highest level of control, were all punished by fast, forward (teams)," Deschamps pointed out. France were ahead of other teams – reacting, adapting to opponents and situations. The win exposed the vulnerabilities of a one-dimensional, possession-obsessed approach in modern football.
ALSO READ | Emmanuel Macron cheers France from stands - then 'dabs' in the FIFA World Cup changing room
If the World Cup was about France's immense flexibility, it was also about Croatia's steely resolve.
In each knockout game, Croatia were trailing. In the first three, they rallied, having to run around for a combined 360 minutes. Another comeback wasn't possible on Sunday but Zlatko Dalic's side, led by Luka Modric, still captured the footballing world's imagination.
"On our bus, there is a slogan: small country, big dreams. That's a good message to all," Dalic said.
While Croatia dared to dream big, this World Cup also produced other engaging storylines.
England's semi-final run helped rebuild the national team's relationship with its fans as the country got behind Gareth Southgate's boys like no other national side in recent memory.
Belgium's third-place finish also signalled the changing dynamics of football in Europe. The World Cup may have eluded Roberto Martinez's men but Belgium are now among world football's top dogs.
ALSO READ | Jorge Sampaoli stands down as Argentina coach after FIFA World Cup 2018 failure
In Kylian Mbappe, the World Cup found its modern-day teenage hero and the first since Pele ascended the throne in 1958.
One of the biggest winners was hosts Russia. The tournament had been preceded by fears of fan violence and a diplomatic stand-off between Russia and Britain. Once action started, all that was forgotten as fans poured into the country from all over the globe.
Russian hospitality won over visitors; ground realities in the country may take over once the World Cup euphoria subsides, but the level of organisation shown by the hosts has been appreciated universally.
Qatar, in four years' time, will have to do a lot to match up.