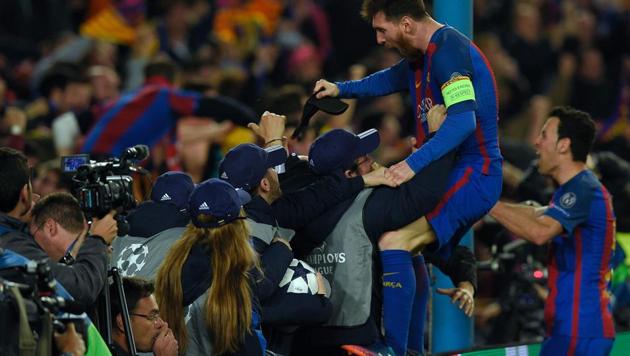 Barcelona's Champions League win vs PSG not 'exceptional' for comeback masters
Barcelona's 6-5 win over Paris Sant-Germain, after overcoming 0-4 first-leg deficit, in UEFA Champions league is special. But over the years, the Catalan giants have been involved several memorable comebacks.
PUBLISHED ON MAR 09, 2017 03:26 PM IST
Magic is real – And Barcelona proved it again at their hallowed Camp Nou on Wednesday night against Paris Saint-Germain. While football critics were ready to write the Catalan giants' epitaph from this edition's UEFA Champions League, Luis Enrique's side prepared to add another historic game to their list of glorious comebacks.
Agreed that no team could ever overturn a four-goal deficit in the Champions League, with five instances of teams overcoming three-goal deficits. But for Barcelona, comeback wins are what made their journey to the top even special.
Read | Gerard Pique promises FC Barcelona induced baby boom
To add to that, in the 2016-17 season, Barcelona won 11 of their matches by four goals or more mainly die to the strike force of Luis Suraez, Lionel Messi and Neymar.
1. 1999/2000 edition - quarter-finals vs Chelsea
Barcelona, then coached by Gianluca Vialli, were down 1-3 against Chelsea after the first leg of the quarter-finals. As the action shifted to Camp Nou, the Catalan giants got back their mojo. But had to play out of their skins to win the match in extra-tme.
Rivaldo, Luis Figo, and Dani Garcia scored in the regulation time for Barcelona while Tore André Flo scored for Chelsea as both teams were level at 4-4 in aggregate.
Read - Gerard Pique promises FC Barcelona induced baby boom
Rivaldo again scored through a penalty in extra-time while Patrick Kluivert added another as Barcelona advanced 6-4 on aggregate.
However, they did not have the same luck in the semi-finals. Barcelona went down 3-5 on aggregate to Valencia, who then lost to Real Madrid in the final
2. 2012/13 edition - round of 16 vs AC Milan
It was a match when Lionel Messi inspired his team to overcome the odds. AC Milan led 2-0 after the first leg with goals from Kevin Prince Boateng and Sulley Muntari.
Read | Barcelona's PSG win prompts ex-Real Madrid player Michael Owen for victory lap
Come second leg at Camp Nou, and Messi revived Barcelona's with two goals inside the first-half. David Villa and Jordi Alba scored two more goals in the second-half as Barcelona entered the quarter-finals 4-2 on aggregate.
Barcelona then entered the semi-finals with a win over Paris Saint-Germain. However, their campaign came to a bitter end after losing to Bayern Munich 0-7 in the last four stage.
Bayern won the edition with a 2-1 win over Borussia Dortmund.
Biggest margins of comeback
Before Thursday night, there have been several instances in Champions League where teams have overcome three goals deficit but never four.
A look at the five recent instances:
1.1993/94: Copenhagen lost 0-3 to Linfield in first leg but won 4-3 on aggregate.
2.1997/98: PSG lost to Steaua Bucharest in the qualifying round 1st leg, but won 5-3 on aggregate.
3.1999/2000: Widzew Lodz lost 1-4 to Litex Lovech in qualifiers, The latter finished the regulation time by the same margin and then won 3-2 on penalties.
4.2003/04: KF Tirana lost 0-3 to Dinamo Tbilisi in the first qualifiers before winning 3-0 themselves and then winning 4-2 on penalties.
5.2003/04: Deportivo lost 1-4 to Milan but won 5-4 on aggregate.
Close