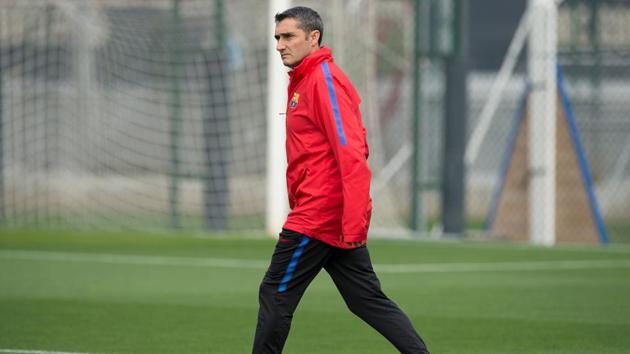 Barcelona want to preserve unbeaten run when they meet Real Madrid
Ernesto Valverde, Barcelona manager, wants to win the El Clasico with Real Madrid and wants to go unbeaten in La Liga.
Reuters, Madrid | By Reuters
UPDATED ON MAY 06, 2018 12:40 PM IST
With the La Liga title already in the bag, Barcelona still want to win Sunday's Clasico meeting with Real Madrid and preserve their unbeaten record in the campaign, coach Ernesto Valverde said on Saturday.
"A Clasico is a Clasico and at the end of the day it's an important game in the season," Valverde told a news conference.
"Luckily for us, we're champions already. Obviously, we want to win, irrelevant of the table -- and they will too, given the situation and our rivalry.
"They'll come with the idea of ending our unbeaten streak and hopefully it'll be a good game."
Barca sealed the La Liga crown with a 4-2 win at Deportivo La Coruna last Sunday, meaning pride is all that is at stake when they face third-placed Real at the Nou Camp.
"I wish all Clasicos had a decaffeinated flavour because of the fact we were already champions," said Valverde. "Maybe observers would be more up for it if the gap was just one point and there was more at play, but I'm happy the way it is."
READ | Bayern Munich battle back from one goal down to defeat relegated FC Cologne
Valverde played down Real's decision not to give Barca a guard of honour as champions, as is traditional in Spain.
Real coach Zinedine Zidane told a news conference earlier on Saturday: "We, with respect, won't do it for them because they didn't," referring to Barca's decision not to give their rivals a guard of honour at the Dec. 23 Clasico after they won the Club World Cup.
"We've spoken a lot about this," Valverde said. "It's something that, for all the talking that's gone on about it, will not have any importance, I'm sure of it. I think it's fine, and that's that. We're not going to give it any importance.
"I don't have any doubt that tomorrow we'll see the best two teams possible on behalf of both Barca and Real Madrid," he added.
Sunday will be the final time that Barcelona captain Andres Iniesta faces arch-rivals Real, having confirmed his departure at the end of the season.
READ | Ex-Manchester United manager Alex Ferguson in intensive care after emergency brain surgery
"I know that people are talking about it because tomorrow's game is so important but it's not his last game," Valverde said.
"We've got three games left with him and the importantone will be the last one he plays."
Topics
Close