FIFA World Cup 2018: Asian teams' success not indicative of continent's progress
The Asian teams have done very little in FIFA World Cup 2018 to suggest that the stranglehold of elite teams can be broken in club competitions or Cup qualifiers.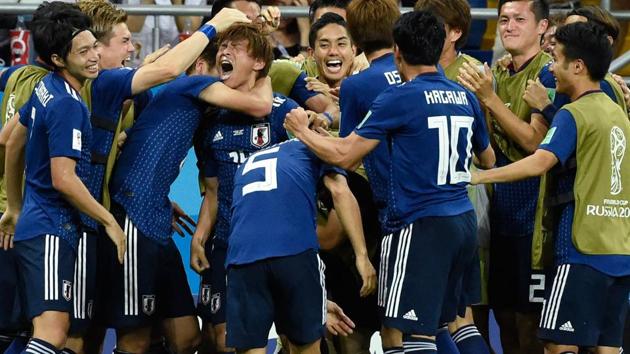 Updated on Jul 04, 2018 02:54 AM IST
Hindustan Times, Moscow |
Bhargab Sarmah
As Japan crashed out of the World Cup in the most heartbreaking fashion, Asia's campaign came to an end. It was an encouraging World Cup for the continent, better than most previous editions. Barring Australia, every team representing the Asian confederation managed to notch up a win in Russia this summer.
After Saudi Arabia's opening day rout by hosts Russia, the overall performance of Asian teams showed that some of the continent's top guns can hold their own at the highest level. But is the 2018 World Cup really indicative of Asia's progress in the sport, as has been made out to be by most observers?
A look at the trends in Asian football over the past few years doesn't quite hint at collective progress made by the continent.
The Asian Football Confederation (AFC) has 47 affiliates but only 12, including Israel who are now part of Europe's football body UEFA, have qualified for the World Cup. This includes Australia who joined AFC in 2006.
READ | FIFA World Cup 2018: Emil Forsberg guides Sweden to victory over Switzerland
Of the other 10 countries, only four — Japan, Saudi Arabia, South Korea and Iran — have managed to qualify for the tournament on more than one occasion since 1990. These usual suspects have been dominating Asian football since the turn of the century and there is little evidence of any significant movement by other teams.
The Asian Cup is a case in point. Since Kuwait's 1980 triumph, the competition has been dominated by Japan and Saudi Arabia. Australia, nine years into their inclusion in AFC, became the only team apart from these three to win the competition since 1980 when they triumphed at home in 2015. Iraq's victory in 2007, inarguably Asian football's biggest underdog story, is largely seen as an anomaly.
During this World Cup, when Iran coach Carlos Queiroz was asked about Asian teams supposedly closing the gap on Europe, he said: "I have exactly the opposite opinion. Two years ago, I said European football has taken off far away. Other continents are struggling. Only the nations that have the opportunity to bring players to Europe have a chance to be closer. For Asia the gap is higher, for Africa the gap is higher."
It is difficult to argue with Queiroz's assessment given the growing clout of the top European leagues on the world game.
Football in Asia is the stronghold of only a few countries. The format of the AFC Cup, the continent's second-tier club tournament, has been changed in recent years to allow clubs from regions such as South Asia go deeper into the competition but the Asian Champions League continues to be dominated by clubs from the continental elites.
READ |
Since Saudi Arabia's Al-Ittihad became Asian champions in 2005, only on two occasions have clubs from outside of Japan, South Korea and China have won the title. South Korean and Japanese clubs, in particular, have dominated the tournament alongside a few from West Asia, with China entering the conversation following keen government interest and significant surge in investment in the country's top league in recent years.
It is a trend similar to Europe. However, unlike norms followed by the European Union, restrictions in international players' movements across Asia mean that the cream of the continent continues to come only from the same nations.
Every four years, the final round of World Cup qualifiers in Asia features almost identical line-ups. Barring Uzbekistan, and UAE and Iraq on occasions, no other Asian country has consistently been able to come close to challenging the status quo.
Asian teams have made a mark in Russia all right but for most Asian countries, international football gives little reason to cheer.
Close Story
Personalise your news feed. Follow trending topics