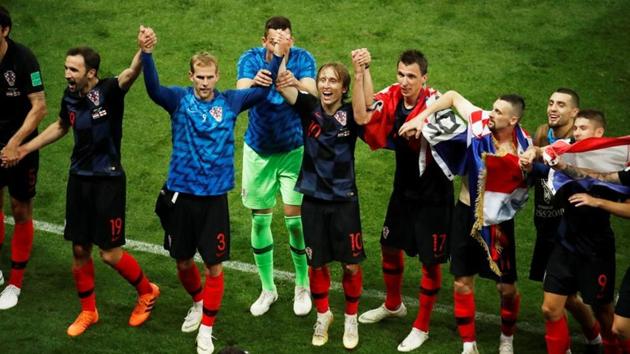 How English media's taunts fuelled Croatia's FIFA World Cup 2018 campaign
Luka Modric, who will lead Croatia in their first ever FIFA World Cup final, said that his team had set out to prove a point after English journalists 'underestimated' his side ahead of the clash against Harry Kane's side.
UPDATED ON JUL 13, 2018 01:34 AM IST
Six years back, Zlatko Dalic was coaching Al Hilal B, the second team of a top tier club in Saudi Arabia. Dalic had landed the job after a promising stint with lowly Al Faisaly. (FIFA WORLD CUP 2018 FULL COVERAGE)
A few months later, Dalic would get his big break in Saudi football. With Antoine Koumbare sacked by Al Hilal from his position as head coach of the first team, Dalic was promoted to the role.
ALSO READ: 'It's not coming home': England trolled for World Cup 2018 exit after loss to Croatia
Dalic led the club to the national cup title but a league triumph eluded him. Dalic made another big jump when Asian powerhouse Al Ain came calling in 2014. He would spend three seasons at the club and lead them to the AFC Champions League final in 2016.
So, it seemed somewhat unexpected that Dalic would be appointed head coach of the Croatia. Yet, in less than a year since being put in charge, Dalic has done more than enough to convince doubters.
Speaking to reporters in the mixed zone at the Luzhniki Stadium after Wednesday's 2-1 World Cup semi-final win over England, Dalic termed his own personal journey as 'incredible' but insisted on speaking about the national team rather than himself.
ALSO READ: Old England hub hails and mourns England's FIFA World Cup 2018 loss
"For us, it's fantastic. Tonight the whole country is celebrating, the whole country is in the streets. We are a small country of only 4 million. I don't think in history a small country like Croatia has been in the final," he said.
The name of Uruguay may have slipped off Dalic's mind but the World Cup in 2018 is a different beast altogether from the ones in 1930 and 1950, and undoubtedly more difficult to master.
Like Dalic's own personal ascent, Croatia's rise to the top of the game may seem surprising given its size. When the country had reached the World Cup semis in 1998, it had seemed like a one-off achievement.
ALSO READ: World Cup semi-final run just the start for young England, says captain Harry Kane
Croatia's team bus carries the slogan 'mala zemlja, veliki snovi' (small country, big dreams). This summer has been the stuff of dreams for Croatia.
Modric owes it to English media
Speaking to the Spanish press in the mixed zone, Luka Modric, who took questions till well over two hours after the game, said reaching the final may have been his biggest achievement yet in a career where he has won four Champions League titles.
"If we win, it will definitely be the biggest (achievement)," he said.
A short while earlier, he had explained to an English TV reporter about what had motivated his side in the semi-final. "English journalists, pundits from television, they underestimated Croatia and that was a huge mistake. All these words from them we take, we were reading and we were saying 'okay, we will see who will be tired'," he said.
Modric had been one of the millions affected by the civil war in Yugoslavia. Less than three decades since the country's independence, he and Croatia stand on the brink of something special.
For now, it's just the football that matters for Dalic. "We will think about everything else after our last game," he said.
But will fatigue be a factor? "We cannot be tired because it's the final. You cannot be tired for a final. We cannot find any excuse. We will play the final like it's our last ever game."
Close