I-League: Defending champions Bengaluru FC face Churchill Brothers FC
Published on Jan 27, 2017 04:24 PM IST
Bengaluru FC will be looking to bounce back from the defeat at the hands of East Bengal when they face Churchil Brothers FC in the I-League.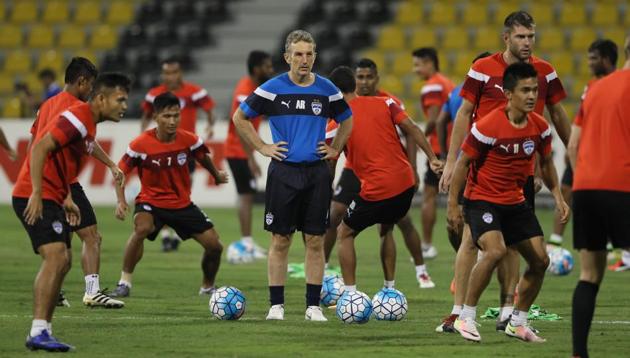 Margao |
Indo Asian News Service
Churchill Brothers FC will be cautiously optimistic when they face title holders Bengaluru FC whose air of invincibility and high flying run was cut short by a 1-2 defeat against East Bengal.
Churchill Brothers FC, who opened their account after a hard-fought draw against DSK Shivajians in their last match, are eighth with one point from four matches. Bengaluru are fourth with nine from as many matches.
"We are looking forward to our home match and they are coming from a loss while we are coming from a draw. So some positives are there and maybe their confidence can be low after that defeat," Churchill Brothers coach Alfred Fernandes said on Thursday.
"We have some tactical plans on how to contain them and since they are such a strong team with quality players, we have to come up with something extra."
A defeat after three straight wins means that the defending champions would be desperate to put things in order after Churchill.
"We want to get back to our winning ways again. We know how difficult tomorrow's game is going to be. It will be even harder than it was against East Bengal. We have to be ready mentally to prepare for this game," Bengaluru FC coach Albert Roca said.
"You know the league does not give you too much time to prepare for the games. But for everybody, it is the same. If we want anything for this game, we have to go out and try to get it. We have to be ready to work hard, to run a lot even more than them if we want to win."
Alfred Fernandessuggested that his team will not be intimidated by the big names of Bengaluru FC .
"Our confidence is very high after our last match because we came from a goal down and we nearly upset DSK Shivajians. Sometimes luck has to be on your side. Hopefully, tomorrow luck will be on our side. We have been playing against the best teams and we are not intimidated," Alfred said.
Churchill don't have any major injury concerns while Roca wants his team to continue playing their game even though East Bengal managed to outsmart them.
"Obviously I can't disclose how we are going to play tomorrow. But the way that we play, we cannot change a lot. We cannot play long balls and we have tried always more or less to play our game. We don't want to think too much or cry about the last result and I will adjust to see how my team reacts," Roca said.