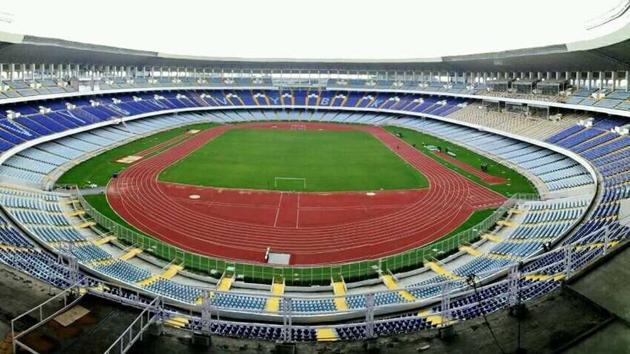 Refurbished at over Rs 100 crore, Salt Lake stadium handed over to Fifa on Sunday
The refurbished Salt Lake Stadium has been handed over to FIFA as the start of the U-17 World Cup draws nearer.
UPDATED ON SEP 22, 2017 01:07 PM IST
At 1pm on Sunday, the Salt Lake stadium changed hands. Temporarily.
For the next 49 days, the stadium will be in Fifa's control. The state government will reclaim what can justifiably be called its pride -- one which it refurbished at over Rs 100 crore - on October 29 after the final of the under-17 football World Cup. This is the first of the six venues to be handed over to Fifa.
"It is on a par with all football stadia that has hosted a World Cup final. In terms of looks, it gets a 10," said Javier Ceppi, head of the local organising committee for the World Cup. Representatives of teams which visited here after the World Cup draw said the lobby looked like that of a five-star hotel, he said.
The refurbished sports amphitheatre that primarily serves as a football cathedral will seat 66,687 for India's first football World Cup, said Ceppi. A full house, as is expected for the final, will take eight minutes to evacuate, said Ceppi.
For other events, it will now hold 80,000, said Arup Biswas, the state sports minister.
Ceppi and Biswas said two per cent of the work remains to be completed on the project that began in February 2015. "And we are under no time pressure," said Ceppi. "We will now help make the transition to a venue fit to host the World Cup final."
It took 105 meetings and the involvement of multiple state departments to get the 33-year-old venue renovated. Help was also sought from the Indian Institute of Technology (IIT), Kharagpur and other engineering institutes, said Biswas.
Ceppi said England, which along with Chile, Mexico and Iraq will play here, will train in Mumbai before coming here on October 2-3. All the other teams based in Kolkata will reach the city around that time, he added.
'Box office at other venues too'
Ceppi also said that box offices, where tickets can be bought, will be set up at all venues except Kolkata. A box office was opened in Goa last week and sales have been great, he said.
The response to tickets sold online has been good from the beginning in Kolkata and hence there is no need for a box office here, said an official of the local organising committee.
Close