Switzerland players escape bans over goal celebrations at FIFA World Cup 2018
Reuters, Moscow |
Reuters
Jun 25, 2018 11:37 PM IST
Granit Xhaka and Xherdan Shaqiri, two Switzerland players who are ethnic Albanians and of Kosovar heritage, celebrated afater scoring against Serbia with a gesture which appeared to imitate the eagle displayed on Albania's flag
Switzerland goalscorers Granit Xhaka and Xherdan Shaqiri were fined and warned but escaped bans over their goal celebrations during their politically-charged 2-1 World Cup win over Serbia, FIFA said on Monday.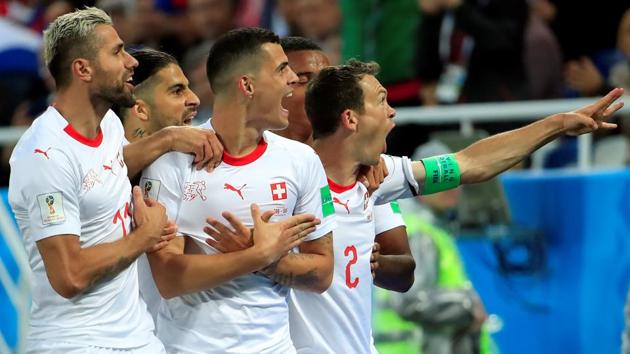 The two players, who are ethnic Albanians and of Kosovar heritage, celebrated with a gesture which appeared to imitate the eagle displayed on Albania's flag.
READ | FIFA World Cup 2018 matches penalties record before knockout rounds
Serbia refuses to recognise the independence of its former province Kosovo, whose 1.8 million people are mostly ethnic Albanians, which broke away 10 years ago, and opposed Kosovo's ultimately successful bid to join FIFA.
They were fined 10,000 Swiss francs ($10,000) each for "unsporting behaviour contrary to the principles of fair-play" and warned, while team captain Stephan Lichtsteiner, who joined in with the celebrations, was fined 5,000 Swiss francs and given a warning, FIFA said.
All three players are free to face Costa Rica in Group E on Wednesday when Switzerland need a draw to progress to the round of 16.
The Serbian FA was fined 54,000 Swiss francs and warned for a "display of discriminatory banners and messages" by fans, while its president Slavisa Kokeza and national team coach Mladen Krstajic were fined 5,000 Swiss francs each and warned for comments they made after the game.
READ | Record-breaking goalkeeper saves penalty, but Egypt fall to Saudi Arabia
Xhaka and Shaqiri's behaviour divided opinions in Switzerland with some politicians defending them and others saying they felt their goals were scored by Kosovo rather than Switzerland.
FIFA and its European counterpart UEFA ensure that Serbia and Kosovo are kept apart when making draws for European competitions.
In another decision, the Argentine FA was fined 105,000 Swiss francs after its fans were involved in "fights, throwing objects and homophobic and insulting chants" following their 3-0 defeat by Croatia.
READ | FIFA World Cup 2018: Uruguay punish sluggish Russia to top Group A
Members of the team also failed to attend a touchline interview immediately after the match, which infringed media and marketing regulations, FIFA said.
Croatia's FA was fined 13,000 Swiss francs after its fans were involved in fights and throwing of objects during the same game.