Aravalli property owners object to Supreme Court stay on land bill
Residents and property owners in Aravalli villages notified under the Punjab Land Preservation Act (PLPA) have objected to the Supreme Court's (SC's) stay on the PLPA Amendment Bill, claiming the law interferes with their constitutional right to property and trade.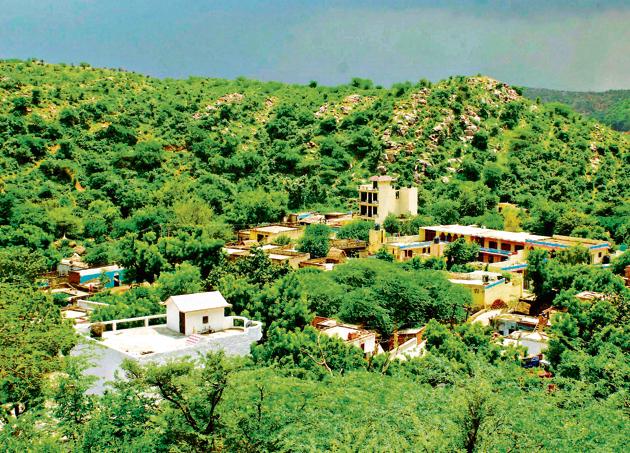 Published on Mar 13, 2019 03:47 AM IST
Hindustan Times, Gurugram |
Prayag Arora-Desai
Residents and property owners in Aravalli villages notified under the Punjab Land Preservation Act (PLPA) have raised objections to the Supreme Court's stay on the PLPA Amendment Bill, claiming the law interferes with their constitutional right to property and trade. Several such property owners have recently formed an organisation titled 'PLPA Peedit Haryana Jan Sanghatan' (PPHJS), which is yet to be registered.
The PLPA Amendment Bill was tabled by forest minister Rao Narbir Singh and then passed by the state assembly in February. If enacted, the Bill will deny 'forest' status to at least 27,000 acres of ecologically sensitive Aravalli land in South Haryana, creating opportunities for real estate development and allowing 'forest' land to be freely bought and sold.
However, before the PLPA amendment could receive the assent of the governor and become a law, the Supreme Court intervened and admonished the Haryana government for passing the Bill in "sheer contempt of court". Members of the PPHJS have alleged that this move compromises their constitutional right to buy, sell or develop lands as they please. Environmentalists, on the other hand, say that it is not legally permissible to 'own' PLPA-notified Aravalli land, and that the land has been privatised through 'dubious' means.
The question at the heart of this dispute is how exactly the Aravalli lands have been privatised, and whether PLPA lands notified under sections 4 and 5 of the Act (which prevent activities like construction) should be considered and protected as forests under the Forest Conservation Act, 1980.
The apex court has repeatedly affirmed this claim, most notably in its Kant Enclave judgment of September 2018, in which it is clearly stated that 'PLPA lands are to be protected as forests'.
In the 1970s, the state revenue department allowed the transfer of common land, classified as 'panchayat deh' or 'shamlat deh' lands, into the hands of villagers, who then sold off their undivided shares to real estate developers. This privatisation of PLPA-notified Aravallis is extensively documented in legalese, and has also been contested by village panchayats and municipal corporations which, in some cases, have reclaimed the land in question. There are 38 villages in Gurgaon and 17-odd in Faridabad, which contain PLPA-notified Aravallis, a significant of which chunk has been privatised as such.
City-based legal activist and environmentalist Sarvadaman Oberoi said that this manner of 'selling' Aravalli land is illegal as "shamlat or common use lands cannot be bought and sold as has happened". He estimated that about 20% of Aravalli common lands have been privatised in this manner. "The main benefit of such privatisation goes to outsiders who have purchased lands at low prices, and now stand to profit if the PLPA Amendment Bill becomes a law, removing the 'forest' protection accorded under the Forest Conservation Act (FCA), as instructed by the Supreme Court," he added.
Majority of the protesters aligned with the PPHJS are residents or property owners who possess such land parcels in the Aravalli villages of Gurugram and Faridabad, such as Anangpur, Ankhir, Mangar, Kot, Mewala Maharajpur, Gwal Pahari and Bandhwari. However, there are presently restrictions on using this land for non-forestry purposes (as per sections 4 and 5 of the PLPA), meaning that the land does not have any real estate value. Members of the PPHJS have been fighting individual cases to reverse these restrictions for at least a decade.
Sanjeev Malhotra, who owns 12 acres of PLPA notified land in Faridabad's Surajkund village, said, "The PLPA denies us right to property and fair trade under Articles 19(g) and 300A of the Constitution of India." He also said that considering PLPA lands to be 'forest' will "amount to deprivation of land owners without any compensation, which is in contradiction of the legal rights of land owners."
Rishipal Bhadana, president of the PPHJS, and Satpal, a resident of Anangpur, also echoed this interpretation of the law. Satpal said, "We truly believe that the Supreme Court will consider the merits of the law and uphold its probity as a measure of justice to citizens who are being deprived of their right to property."
Shyam Singh, an advocate representing members of the PPHJS, said. "The land that my clients own has always been private land because only they themselves have tended to it and relied on it for sustenance over generations. It should logically follow that possession leads to a title of the land. Challenging this denies them of their constitutional right under Article 300A which guarantees one's right to property."
There are presently multiple court cases challenging this transfer of land in villages such as Mangar, Kot, Bandhwari, Anangpur, Ankir and Mewala Maharjpur. "The question that arises isn't whether you are being denied of your right to property, but how you came to occupy this property on forest land in the first place," environmentalist Oberoi said, pointing out instances where such illegal transfer of commons has been reversed, with the lands coming back into possession of the local municipality or panchayat. This is in keeping with a 2011 judgement by the Supreme Court, in which it directed that common lands must be restored to panchayat ownership.
In some instances, such transfer of common land has indeed been reversed, such as in Bandhwari, where the land is now in possession of the Municipal Corporation of Gurugram. The matter is still pending in the Supreme Court. In Gwal Pahari, where such transfers of land have happened, the matter is pending in the local courts.
For Kot village, a suit has been filed by the panchayat in the Faridabad revenue court to reclaim the common lands. "The reluctance of the Faridabad municipal corporation to file suits to reclaim the Aravalli common land and protect it under the FCA is baffling, but also critical, before they are sold off to new buyers who will then demand property rights," said Oberoi.
Such PLPA-notified Aravalli lands in Gurugram and Faridabad, especially between Surajkund and Badkhal and stretching to Mangar and Kot and Damdama lake, are the ecological backbone of the cities of Delhi, Gurugram and Faridabad, said forest analyst Chetan Agarwal.
They are a ground water recharge zone, as well as a wildlife habitat and corridor zone, a sink for air pollution, a preventer of desertification, and likely influence rainfall patterns through evapotranspiration processes, he said, adding, "The right to property is one thing, but what about the rights of wildlife, or the environment?"
Close Story