Cases of drug-resistant TB rose by 40% in 4 years, say doctors
Hindustan Times, Gurugram |
Sonali Verma
Mar 24, 2019 02:25 AM IST
According to data released by the health ministry in March 2018, the estimated number of patients with MDR-TB in India is 1.47 lakh, which account for one-fourth of the cases of MDR-TB globally.
Almost three years ago, when Bishakha Rana (21) moved to Gurugram for pursuing her higher education in engineering, she contracted tuberculosis. For the first six months of her arrival in Gurugram, everything was normal. Then she started coughing frequently. The cough persisted for almost three weeks before she consulted a local doctor at a polyclinic.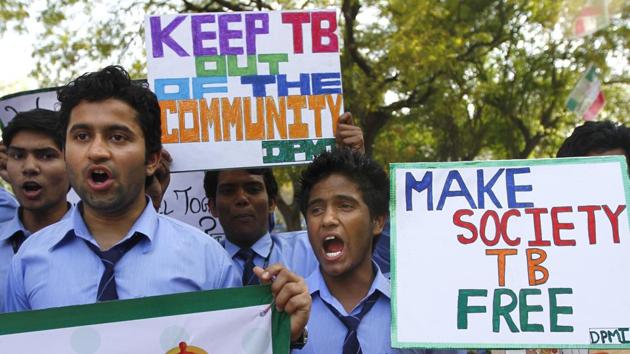 "I underwent tests, and the doctor told me I had tuberculosis(TB). I immediately started crying as I had lost my cousin to the same disease many years ago," she said.
Stay tuned with breaking news on HT Channel on Facebook.
Join Now
Rana was put on treatment for seven months and was confirmed free of TB soon after. However, a few months later, she started experiencing night sweats, chills and fatigue. This time around, she went to a doctor in a private hospital, who diagnosed her with multi-drug resistant tuberculosis (MDR-TB). This course of treatment lasted for around 21 months.
Tuberculosis is a bacterial disease that can be treated with a combination of antibiotic drugs. However, patients with MDR-TB are immune to the first line of drugs, and need the second line of toxic drugs.
According to data released by the health ministry in March 2018, the estimated number of patients with MDR-TB in India is 1.47 lakh, which account for one-fourth of the cases of MDR-TB globally.
The treatment of the disease is long and expensive and has a substantially lower success rates than drug-sensitive TB. The health ministry data states that India has a success rate of 46% and a death rate of 20% of the disease, against a global average of 52% and 17% respectively.
MDR-TB patients are treated with a combination of drugs, which are divided into four groups — fluoroquinolones, second-line drugs, second-line injectable drugs and add-on drugs. These drugs are known to cause side effects such as hearing loss, kidney impairment and psychiatric disorders.
Rana doesn't know how she got infected twice, but doctors said poor sanitation, bad air quality and smoke make the tuberculosis bacteria thrive. Because of the side effects, she now faces difficulty in hearing.
According to doctors, cases of drug-resistant TB are on the rise for the last three to four years.
Dr Neetu Talwar, paediatric pulmonologist at Fortis Hospital, said, "More cases of drug-resistant tuberculosis have been surfacing over the past three years or so. This might be because detection of TB has increased. But there has been at least a 40% rise in the number of cases I see, and I'd see only about two or three in a month."
Neetu Talwar added she predicts the number of cases will rise further in the coming few years, mostly because of the misuse of antibiotics.
According to a 2017 study published in The Lancet Infectious Diseases, cases of drug-resistant tuberculosis are set to increase in the four high burden countries, such as India, the Philippines, Russia, and South Africa, between 2000 and 2040. It adds that increased spread from person to person will be responsible for the growing number of drug-resistant tuberculosis cases.
Health experts said to tackle the threat associated with TB, the stigma and discrimination attached to the disease have to end. Mental disorders, anxiety, depression among TB patients are likely to be between 40 to 70%, according to the World Health Organization.
"Counselling and acceptance are needed for dealing with TB patients. There is a high refusal among patients to go for check-ups or adhere to the course of treatment. Counselling in initial stages can go a long way," said Naveen Parkash, an expert on infectious diseases.
Dr Talwar too recalled a case where the mother of a five-year-old, who was suffering from high fever for two months, was refusing to get her tests done.
"Even after tests showed TB, she wasn't ready to accept therapy. The child had MDR-TB and timely treatment could have saved her life," she said.
Doctors also said the fight against tuberculosis has to also move towards fixing the immune system.
"People prone to diseases such as diabetes, those who smoke and drink are at a higher risk of developing drug-resistant tuberculosis," said Dr Rajiv Dang, general physician at Max Hospital.
Dang gave the example of a 55-year-old man who had an unfavourable diet and was a smoker and drinker, because of which it took more than two years to treat him.