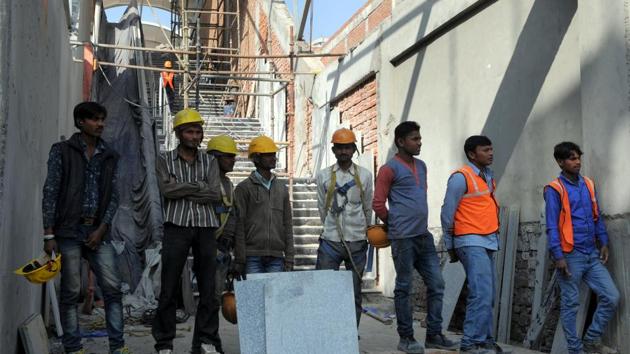 Demonetisation hits Gurgaon Rapid Metro project too
Shortage of currency in the aftermath of demonetisation decision has made it difficult to get workers for the project.
UPDATED ON DEC 31, 2016 12:32 PM IST
After missing its second unofficial deadline set in the last quarter of 2016, phase 2 of the Rapid Metro project looks likely to be delayed for another quarter as it is facing a manpower problem due to shortage of cash to pay workers.
According to sources, while Rapid Metro has sanctioned the requisite funds, its contractors are unable to pay workers due to shortage of currency notes.
The 6.7-kilometre phase 2 line has designated stations at DLF Phase 1, Sushant Lok, sector 53/54, AIT Chowk and sector 55/56. It will start from Sikanderpur metro station near Bristol Chowk and terminate at Golf Course Extension T-junction.
Construction started in April 2013. It was earlier expected to be completed by the end of 2015, then in the end of 2016 and is now scheduled for first quarter of 2017.
The project is owned and constructed by Infrastructure Leasing & Financial Services Ltd (IL&FS) and Rapid MetroRail Gurgaon Ltd (RMGL). In February this year, IL&FS Transportation Networks Ltd (ITNL) sold 49% equity stake in subsidiary Rapid MetroRail Gurgaon Ltd (RMGL) to parent company IL&FS for around Rs509.9 crore, as a step towards reducing debt.
In November, trial runs were started using the seven rakes procured earlier this year. The move is a step towards getting the necessary safety clearances in time. The clearances are time-consuming and the project aims for a February 2017 launch.
Rapid Metro officials admitted that along with carrying out the trials, they have simultaneously been trying to make up for the delays by ramping up construction activity at stations and tracks using the limited manpower available.
"We have also felt the impact (of demonetisation), especially with respect to disruptions in availability of contract labour and material disruptions on account of inter-city transport; (the) impact being (more) pronounced with the project being in the final stages of completion. However, we are trying our best to complete the work within the constrained environment. The process of securing requisite approvals to commence commercial operations at the earliest has also been initiated. Key milestones have been achieved with our track work complete, power system energised and a major milestone – commencement of train trials – initiated in November," said the official spokesperson of the Rapid Metro.
Even before demonetisation, the Rapid Metro had already faced several challenges in completing the project, such as managing the interface with the Golf Course Road widening project, which is taking place simultaneously in the same alignment. The shifting of a BPCL gas line and shifting of underground utilities for the construction of an underpass at the Genpact intersection was another challenge.
In addition, the labour-intensive work of excavation, backfilling, dismantling of concrete, interconnecting trenches, dewatering, installing air condition ventilators, water sprinklers and electrification too is behind schedule due to shortage of work force.
Officials said work on signalling and communication systems too are still in progress, but setting up of double (to and fro) standard gauge tracks and platforms has been completed.
Contractors working at the project site claimed they were able to procure requisite construction material as they had received electronic payments for the projects. However, the problem lay in procuring manpower.
"We are in a fix. We have received the necessary payment from Rapid Metro and got the construction materials, but are unable to pay weekly wages to workers as most prefer cash. Skilled and semi-skilled workers are required in more than 60% of construction activities. Hence, the delay is unavoidable," said a contractor associated with the project.
Close