Gurgaon man jailed for selling US-based NRI's property using forged papers
US-based Jafar Ahmad Malik's Palam Vihar house sold for Rs 2 crore using forged papers, bogus bank account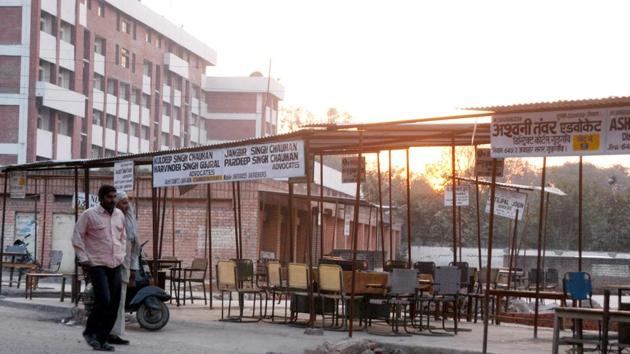 Published on Aug 23, 2017 06:30 PM IST
Gurgaon: The Gurgaon district court on Tuesday sentenced a man to six-year rigorous imprisonment and imposed a penalty of Rs 15,000 for using fictitious documents to sell a property that was owned by a US-based NRI. The accused had also given a wrong identification in the bank to facilitate the prime accused to open an account, which was needed to encash the cheque obtained by selling the property worth Rs 2 crore.
The accused, identified as Rajesh Kumar, a resident of Gurgaon, was held guilty under sections 419, 420, 467, 468, and 471 of the IPC. The prime accused, Vivek Rana, was declared a proclaimed offender by the court.
The property belongs to late Jafar Ahmad Malik, a resident of the United States, whose son Salim Ahmad Malik, who also lives abroad, complained to the Gurgaon police in 2014 that their house in Palam Vihar's Block C had been occupied by unauthorised persons.
As per the prosecution, one Vijay Madan, a resident of Delhi, had claimed that he held the general power of attorney (GPA) on behalf of Jafar Ahmad Malik. He sold it using this fake GPA to Rajiv Kumar, a resident of Vasant Vihar for Rs 2 crore. Vivek Rana was the witness in the sale deed and is allegedly the prime accused in the entire fraud.
Rana opened a bank account to encash the cheque obtained from Kumar in the name of Jafar Ahmad Malik and in this he was helped by accused Rajesh Kumar, who identified him as Jafar.
The prosecution contended that Kumar got Rs 39 lakh for enabling the opening of the bank account which was critical for this fraud to happen. The amount of Rs 39 lakh was transferred to Kumar's three accounts via cheque payments.
Ravish Kaushik, judicial magistrate, upheld the contention of the prosecution that Kumar had hatched a criminal conspiracy with Rana and had committed the offence of forgery. They committed a financial fraud to cheat the bank officials, the original owner and the buyer by helping them open a bank account in which Rs 2 crore was deposited, the court observed.
"A large amount of money was transferred from the fake account Rana had created with the help of the accused and the money trail has been established. Had he not identified Rana as Jafar Ahmad Malik, the fraud would not have been possible," said Vishal, public prosecutor.
The quantum of the sentence was announced by Abhishek Phutela, chief judicial magistrate, Gurgaon, as the severity of punishment needed a higher court to pass the sentence.
Close Story
Personalise your news feed. Follow trending topics