Gurugram: Revenue from traffic fines hits 10-year high
Rs 14.5 crore has been collected in penalties from violators between January and August 2018.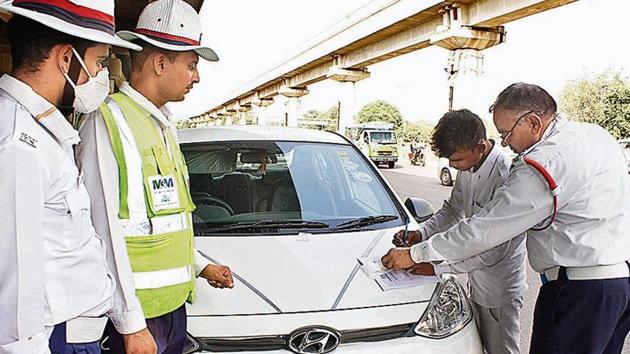 Updated on Sep 19, 2018 03:29 PM IST
The Gurugram traffic police said they have collected an unprecedented Rs 14.5 crore in penalties from violators between January and August 31 this year. According to them, the rise in revenue is due to increased stricter patrolling at key intersections.
According to data from the traffic police, as many as 8.6 lakh fines were issued until August 31. Officials said they expect to collect an additional Rs 50 lakh in fines by the end of the year.
Most of the amount, the police said, was collected during 'Zero Tolerance Day' — observed three times so far in May, June, and August.
On an average, 1,000-1,200 fines were issued and erring drivers were penalised. In 2017, the department had earned Rs 11.42 crore as revenue from 2.56 lakh erring drivers. Even last year, the revenue was the highest thus far across the state, the police said.
KK Rao, the commissioner of police, said he had planned a strategy to ensure offenders were not let off. Earlier, traffic police were mostly deployed at intersections, not on arterial roads. "We focused on illegal parking, people driving without seat belts and helmets as well as underage driving. Police personnel were deployed on all important stretches with maximum commuters," Rao said.
Offenders, Rao said, were penalised on the spot — Rs 600 is the penalty for illegal parking, Rs 100 for driving without a seat belt and Rs 100 for driving without a helmet.
He added that in 2017, there were 573 traffic personnel deployed across the city, but now 744 traffic personnel and 200 home guards have been inducted in the field. He also said that there are two traffic police stations, one at Hero Honda chowk and another at Manesar police station.
Haryana chief minister Manohar Lal Khattar, in January 2015, had approved the Haryana Road Safety Fund Scheme for the state police. It was decided that about 50% of the penalty fee collected in the previous year from various traffic violations under the Motor Vehicles Act would be made available under the scheme for the next year.
The traffic police recovered Rs 4 crore in 2015 which they spent in developing infrastructure — they brought reflectors, e-challan machines as well as jackets and masks for personnel.
"Our major drives have not only generated revenue but have also decreased the numbers of drunken drivers as compared to last year," Rao said.
Close Story