'Dogs ending up as momos, biryani, kebabs': Gurgaon pet owner's online petition
Updated on May 13, 2017 05:46 PM IST
Brownie has been missing since April 1 and the dog's owner Anupama Shrivastva has now launched an online petition claiming dogs are being kidnapped to be slaughtered and used as food - in momos, biryani and kebabs. Police say the search for Brownie is on, but the petition already has 450 supporters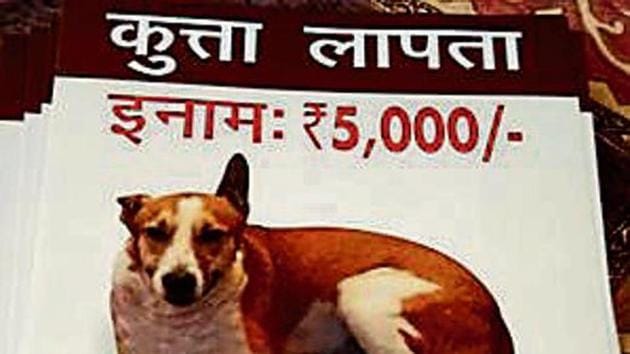 The owner of Brownie, the dog that went missing from DLF phase II in Gurgaon, has launched an online campaign #justiceforBrownie. The campaign is also for other dogs missing in Gurgaon, including one named Motu, missing since April 11.
Brownie's owner Anupama Shrivastva launched the online petition seeking accountability for the missing dogs, who she says are ending up on plates.
The online petition has already managed to gather 458 supporters and is likely to see more traction across the city.
The petition alleges that dog meat is being used for a number of food preparations like momos, biryani and kebabs. Dogs are being slaughtered to make food for people, which must be stopped, the petition states.
Shrivastva's dog Brownie went missing on April 1 and it is suspected that it was kidnapped and eaten by a group of people in Sikanderpur. Although police detained a suspect, identified as Phillip, from the village he has not been formally arrested for what police say is lack of evidence.
Another dog, Motu, which belonged to Sonia Bhardwaj went missing on April 11 and it has not yet been found . FIRs have been registered in both the missing dog cases.
Gurgaon police, meanwhile, say that it is investigating the case of Brownie and is trying to find the culprits.
"A suspect named Phillip was detained by the police but his role in the kidnapping of Brownie could not be established. He was released later but we are keeping a watch on all the suspects. There are few leads on which the team is working. We are hopeful Brownie will be found," said Sudeep Kumar, SHO, DLF phase II.
Dog owners are not impressed. Shrivastva, in the online petition, states: "Brownie was a healthy friendly dog living peacefully with his pet parent Anupama till one day he fell victim to the taste buds of some people who ruthlessly slaughtered and ate him.
"There is a confessional statement from the person and a video which clearly proves the crime. Brownie is not alone, there are many dogs in Gurugram who are falling victim to this and the even more horrifying practice of being slaughtered for becoming food for us. Yes most of the non-vegetarian delicacies we eat, have a large portion of dog meat in it. Be it momos, mutton biryani, kebabs, etc. This is not about any religion or race but about law being broken by whosoever is doing it. This is also all about our right to defend our voiceless pets and street animals. We want #justiceforbrownie and we #believeingurugrampolice to get it."
Personalise your news feed. Follow trending topics