Khandsa widening may miss monsoon deadline
Many houses posing a hindrance to the drain are yet to be razed and a lot of debris has to be cleared as well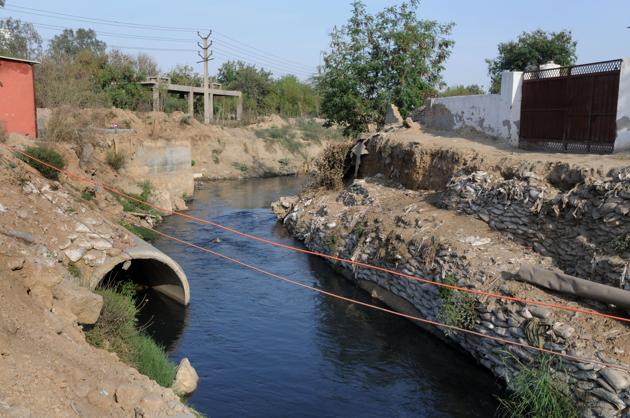 Updated on Apr 21, 2018 11:03 PM IST
For the Haryana urban development authority (Huda), completing the construction of the drain at Khandsa before the monsoon is still a big challenge. While construction of the drain has begun, many houses have only been partially demolished, and a lot of the debris needs to be removed.
The monsoon is scheduled to arrive by the end of June, bringing with it three months of water-logging issues across the city. In fact, it is usually the Khandsa drain which causes massive water-logging problems on the national highway near the Hero Honda Chowk every rainy season. The engineering department of the Huda is trying to complete its construction before the monsoon begins.
The Huda has to widen 600-metres of the drain in Khandsa to allow storm water to flow seamlessly from one end to the other of the 29km Badshahpur Drain, which passes through Ghata, Wazirabad, Badshahpur, Khandsa and Najafgarh.
Read I Gurgaon: Khandsa residents refuse to vacate land for drain-widening
Infrastructure Leasing & Financial Services Limited (IL&FS) is the company that is supposed to move the waste to the Construction and Demolition (C&D) Waste Plant, Sector 37, Gurugram.
Sweta Sharma, executive engineer, Huda, said, "We have started the drain-widening work in Khandsa, but unless all houses are fully demolished and their debris removed, we cannot get clear land for digging. We have requested the Huda enforcement wing and IL&FS to clear the land so that we can complete construction before Monsoon."
"We have been removing debris as per our commitment. In the past 15 days, we have removed approximately 2,500 tons of demolition debris," said a senior executive of IL&FS.
In 2016, massive water-logging on the national highway caused a massive traffic jam. Haryana chief minister Manohar Lal Khattar surveyed the area aerially and ordered the construction of the Khandsa Drain to end the problem.
Close Story