Mewati gang that lifted 10 ATMs in Odisha held after shootout near Gurgaon
Updated on Mar 29, 2017 05:11 PM IST
The gang is accused of lifting about 10 ATMs in Odisha within five months and has been involved in similar crimes in Delhi, Karnataka, Gurgaon and Faridabad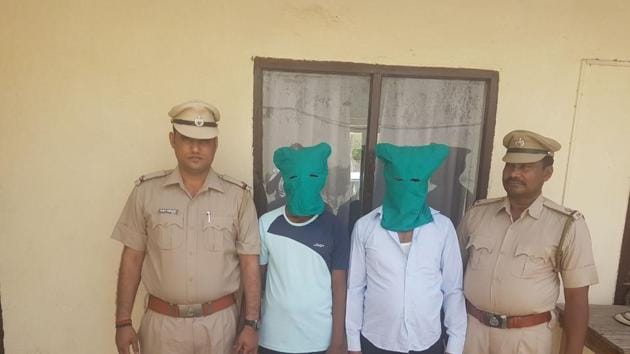 The hills of a Mewat village reverberated with gunshots on Monday after the police and members of a robbery gang exchanged fire.
The gang is accused of lifting about 10 ATMs in Odisha within five months and has been involved in similar crimes in Delhi, Karnataka, Gurgaon and Faridabad, police said.
A team of Odisha police, led by a deputy superintendent of police, has been camping in Mewat for the last fortnight after they got specific input that the gang members were in the area.
The Odisha police team, with the help of the Gurgaon crime branch, tracked three of the accused to Sohna on Monday. They were on a motorcycle and, when chased by the police team,they opened fire and fled towards Mewat, a police officer said.
The accused fled to their village Nagli and started climbing the nearby hills. But the police managed to corner them and the gang opened fire on the police party. The police team fired in retaliation and the FIR mentions that the accused fired seven rounds while the police fired three rounds.
Read | Gangs of Mewat: Govt indifference, neglect bigger realities than crime
Police sources, however, claimed that more than 50 rounds were fired as the accused were carrying countrymade weapons and bullets in their belts.
After the ammunition was exhausted, two of the accused Mohammed Jahid, 25, and Mohammed Shahid, 47, surrendered while Shahid's brother escaped.
"The Odisha police had booked them lifting 10 ATMs and looting Rs 5.5 crore in total. The arrested accused have been taken on three-day police remand for further interrogation," said assistant sub inspector Ajit Singh, the investigating officer.
The police are trying to find out why the accused targeted ATMs in Odisha specifically. He said the accused are experts in cutting and lifting ATMs and looting them. The police recovered pistols cartridges and also seized a car and a tractor from the arrested men.
According to the Odisha police, the gang first looted at ATM at Gandarpur area in Cuttack on October 17. They opened the ATM with gas cutters and stole Rs 17 lakh. The police had noticed a Tata Safari bearing a Delhi registration number used by the accused and this made them widen the search to the National Capital Region.
Read | Ghasera, where Mahatma Gandhi's legacy lives on, waits for India
Personalise your news feed. Follow trending topics