Nursery admissions: Lack of uniform rules, varying timelines hassle Gurugram parents
Nursery admissions in Gurugram start in August and can continue till September or October, depending on schedule decided by various schools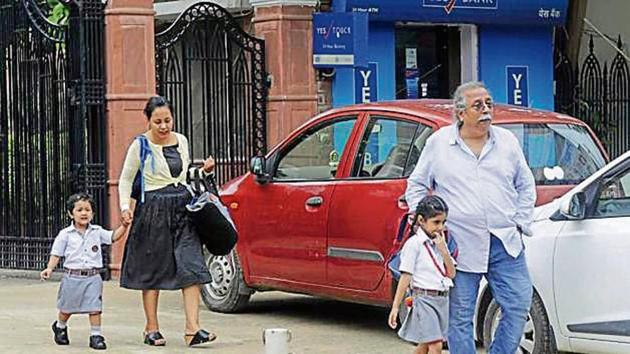 Updated on Sep 18, 2018 10:50 AM IST
Hindustan Times, Gurugram |
Sadia Akhtar
"What do you see your child doing in 2040?". "What is the educational qualification of the child's grandparents?". "What is the annual income of the family?" These are some of the questions that feature in a private school's admission form to nursery—a class mostly attended by 2.5- to 3-year-olds.
Shveta Sharma, mother of one and first-time applicant, took five hours to fill her three-year-old daughter's admission form to nursery in a private school of Gurugram. "It took me five hours to fill up the form and I had to take help from my business partner," said Sharma, who moved to Gurugram from Delhi three years ago and has been researching schools ever since.
"I have been looking for schools for her since she was three-months-old. Despite that, the past six months have been gruelling. Schools offer no clarity on the admission process. There is no uniform admission timeline. Keeping a tab on so many school websites is difficult. Suddenly, you may receive a call or email for a meeting, that's compulsory," Sharma said.
Sharma isn't alone. Parents who have applied for their ward's admission to nursery this year are a worried lot.
Nursery admissions in Gurugram start in August and can continue till September or October, depending on schedule decided by various schools, none of whom are compelled by any government rule or policy to create a uniform admission window.
Vivek Kumar Pandey, a resident of Sector 10, said lack of a common window adds a financial burden and can lead to losses as one-time admission fee—which may range from ₹1 lakh to ₹2.25 lakh—has to be paid in multiple schools to reserve a seat.
"All schools have different admission timelines and offer a small window to deposit the fees, which can easily run into lakhs of rupees. If one secures admission in a better school at a later date, a good chunk of the fee paid to a back-up school gets wasted," said Pandey, who did not pay fee at multiple schools to reserve a seat. Parents stand to lose anywhere between ₹10,000 to ₹1.3 lakh if they cancel the admission.
Not reserving a seat is a big risk, one that many parents can't afford to take. "Sometime, parents end up securing a seat in more than one school, whereas some people don't get a seat anywhere. There are disparities because of multiple rules and timelines. These disparities confuse the parents," said Arti Pandey, who secured a seat in the nursery section of a private school for her three-year-old daughter on Saturday.
Though relieved, Arti said process was no less than a nightmare. "There was a lot of chaos due to the different admissions timelines. One feels like that one is applying for admission to the IITs or the IIMs. Parents are at the mercy of schools that operate on their own whims. They give us a 24-hour window to make fee payment even when the session will start in April," Arti said.
Many parents feel that a streamlined process that is monitored by the government can help to resolve the chaos that ensues during every admission season.
"All school should follow similar rules that should be made by the government. The session starts next year and admissions are completed six months earlier. What if the parents are transferred (to another city)? The government should frame a uniform admission policy," Vivek said.
The education department, on the other hand, said it had no say in the matter.
Premlata Yadav, district elementary education officer, said that private schools were free to frame their own rules as long as they adhered to the basic rules laid down by the government.
"Our rules state that schools should follow a fair lottery-based selection process and not pick and choose students or interview them. As far as framing of a centralised policy or common admission forms are concerned, we have no say at the moment. It is a policy matter," Yadav said.
Colonel Kr Pratap Singh, president of the Haryana Progressive School Conference, Gurugram, said, "Scattered admission dates works in parents' favour. They can choose from a range of schools and opt for the best. Moreover, all good schools have websites where they can track admission schedule. As far as the non-refundable fee is concerned, schools need to compensated for the administrative charges incurred. Government intervention in Delhi has led to a mess in nursery admission. It's better if the schools frame their own policy."
Close Story