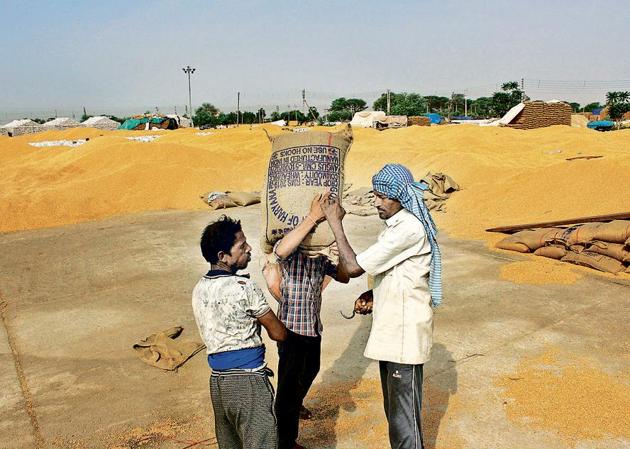 Over 20,000 MT wheat faces rot
20,000 metric tonnes of unpacked wheat left in the open may rot
Hindustan Times, Gurugram | By Archana Mishra
PUBLISHED ON MAY 20, 2019 06:44 AM IST
More than 20,000 metric tonnes of wheat is lying unpacked at the three mandis of the district since the government godowns have been filled with mustard, officials familiar with the matter said.
An unusually high procurement of mustard this year by Food and Supplies Department, Haryana State Co-operative Supply and Marketing Federation Limited (HAFED) and Haryana Warehouse Corporation (HWC) has taken up almost entire storage of 28,000 metric tonnes available in the three mandis of the Gurugram district, officials said. This has triggered fears that nearly 20,000 metric tonnes of unpacked wheat left in the open may rot.
In Haily Mandi, Pataudi, HAFED's 14,000-metric-tonne and HWC's 8000-metric-tonne godowns are filled with mustard. The HWC's 6000-metric-tonne storage unit in Farrukhnagar is also packed with mustard. The officials are now finding it difficult to save the huge amount of wheat that is lying at the mercy of elements. As per official estimates, the Haryana government had procured 80,260 metric tonnes of wheat.
"In the absence of enough storage facility, we have transferred some wheat stock to Tauru godown in Mewat. Some stock has been sent to the Siwari warehouse," said DK Pandey, district manager, HWC.
"All the government godowns, be it HAFED or HWC, are packed to their capacity with mustard. There is hardly any space to stock wheat. We are trying to create space in the mandi itself to at least lift the remaining stock kept in the open," he said. The HWC is yet to lift over 25% of its wheat procurement. Likewise, HAFED has to lift at least 58% of its 31,733 metric tonnes procured wheat in Haily mandi.
Earlier, the mustard procurement was not done through the commission agents in the state. Local cooperative societies under HAFED used to procure mustard, only if required.
Since the minimum support price (MSP) for mustard used to be low and the government did not focus on its procurement, farmers used to sell their produce in the open market at a price less than or equal to the MSP. Also, late purchasing by HAFED last year, forcing the farmers to sell their produce in the local grain market at a price lower than MSP.
However, this year mustard farmers were offered an MSP of ₹4,200 by the central government compared to last year's ₹4,000. Also, this year only those farmers who were registered online under the 'Meri Fasal, Mera Byora' scheme were entitled to sell their crop to the government agencies. More than 6,000 farmers are enrolled with HAFED and HWC.
"Earlier, the procurement of mustard was never done in such huge quantities. It is for the first time that we were ordered by the state government to procure mustard," says Monika Malik, district food and supplies officer, Gurugram. According to her, compared to last year there has been a 130% increase in the procurement of mustard.
To ensure no beneficiary is left behind, the government had put a cap of purchasing 25 quintals per farmer per day. But due to a bumper crop, almost every farmer from the nearby villages sold his produce twice in the mandi.
As per Nafed, production of mustard crop, the main oilseed of rabi season, is estimated at 8.4 million tonne in 2018-19, up from 7.5 million tonne a year ago.
Bishan Singh, a farmer in Mubarakpur had sold his entire 38 quintals of the mustard, grown on six acres of land. "I sold the yield in two instalments and have received the payment."
However, Mohan Lal had to sell his excess mustard produced on his 30 acres of land in the open market. "After selling the mustard twice in Mandi, I couldn't sell the remaining stock. Therefore, I had to sell it in the open market at a price lower than the MSP," he said.
The average prices of mustard were 8-20% lower than its MSP of ₹4,200 per quintal in major mandis of Rajasthan, Haryana, Uttar Pradesh, Madhya Pradesh and Gujarat during April 1-May 7, according to official data.
Talking to HT, Mangeram Beniwal, district manager, HAFED, who operates from Faridabad said, "We have a total storage capacity of 14,000 metric tonnes, of which 10,000 metric tonnes has been given to mustard. We have stored only 4,000 metric tonnes wheat.Therefore, we are keeping the stock of packed wheat in the open."
The real problem, however, for Beniwal is to get the remaining stock packed by the licensed commission agents, who are demanding complete payment.
Commission agents or 'aarhtis' are licensed under the market committees. They assign labourers to weigh and fill the stock in gunny bags of 50 kilogrammes each.
It also includes stitching of each bag and loading into the trucks. They get a commission of 2.5% per quintal, based on the minimum support price of each crop.
"The department has already cleared 80% payment for agents who are licensed to lift the procured stock. As per the order, we cannot pay until the entire lifting is done. Complete payment does not guarantee that they would finish packing and arranging the stock," said Beniwal.
But agents are adamant. They have refused to lift the stock kept in open until their dues are cleared.
Hence, the wheat is likely to rot if unseasonal rains, like the ones witnessed a couple of days ago, hit the district again.
"HAFED officials are adamant they won't pay us until we lift the entire stock. We are asking them to clear our payment," said Anand Goyal, who works as a commission agent in Haily Mandi.
It can be expected, in the ongoing tussle for payment and lack of space, the wheat stock might be left to rot.
Close