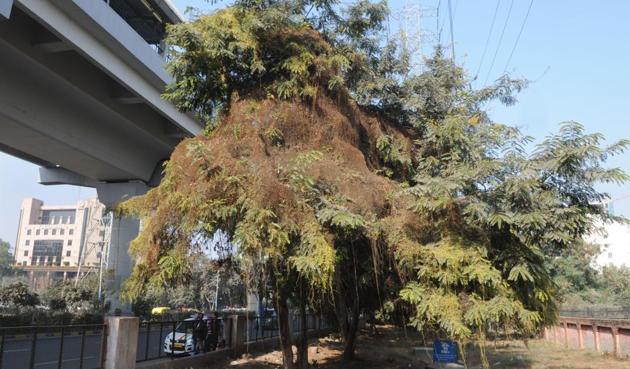 Parasitic vine in trees threatens Gurgaon's green cover
The creeper Amar Bel (Cuscuta) is spreading to several trees, predominantly along the road from Huda Metro station to Sushant Lok
PUBLISHED ON DEC 22, 2016 11:45 PM IST
Trees in the city are being threatened by Amar Bel (Cuscuta) — a parasitic vine that is spreading to several trees, predominantly along the road from Huda Metro station to Sushant Lok. This creeper grows on the host plant and draws nutrition, causing the death of the host.
Environmentalists have raised concerns over the issue and alleged that the Haryana Urban Development Authority (Huda) officials are yet to act on it. Environmentalists said that the yellow vine, which does not have roots, captures the host completely, rendering it incapable of processing sunlight for photosynthesis, leading to its death.
The city is already reeling under low forest cover, which is less than 1% of the urban area. Also, trees are being cut for large-scale infrastructure projects. In this scenario, it becomes imperative that the creeper, which can reduce the green cover further, be eradicated.
"Although Huda officials are aware of the destruction that is being caused by Amar Bel, no action has been taken to remove the creeper," Devjani Roy of Sushant Lok phase 1 said.
She also said that when she approached Huda officials regarding the issue, she was informed that the department did not have labour and ladder to remove the creeper from the trees. "Officials do not have any intention of removing these creepers," she said.
Vivek Kamboj, an environmentalist, said, "This is a major concern as this part of the country does not have enough green cover and the growth of trees is also not very fast because of less rainfall and bad soil quality."
Meanwhile, Huda officials said that they are working on a plan to remove the parasitic vine from the trees.
"We are developing a plan to figure out the areas in which trees are being affected. We might use pesticides to remove this creeper from the entire city. At present, the creeper is threatening age-old trees in the city. We will take action within the month," VK Nirala, executive engineer, horticulture wing, Huda, said.
Close