Residents of DLF-5 clear 200kg waste from the Aravallis
Plastic pollution is a problem plaguing the Aravallis.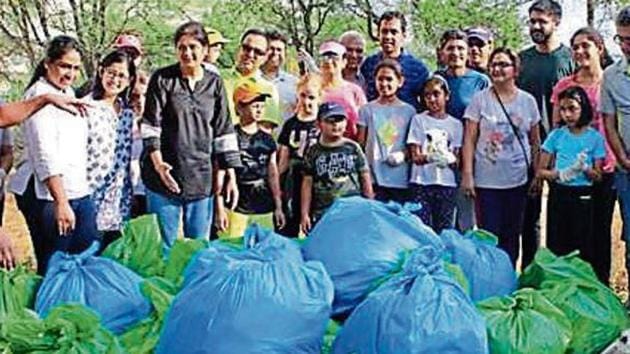 Updated on May 20, 2019 11:12 AM IST
Hindustan Times, Gurugram |
HT Correspondent
Residents of a private condominium in DLF-5 on Sunday morning organised a clean-up drive during which they collected over 200 kilogrammes of waste from the Aravalli forests near Ghata village. About a month ago, a similar excursion organised by city-based environment enthusiasts had yielded more than 50 kilograms of waste.
Anshul Bhalla, a resident of DLF-5 who was part of Sunday's cleanup team, said, "Considering the rising levels of pollution and the deteriorating conditions of the city's green spaces, it is the need of the hour to come forward and do our bit. Plastic pollution is a problem plaguing the Aravallis, and residents feel that if the concerned authorities aren't doing their bit, then we should." He added that such clean-up drives would continue to take place on a weekly basis.

Citizen activism calling for better protection and conservation of the Aravalli mountain range has been mounting since November last year, when the National Highways Authority of India revealed plans to build a six-lane highway through one of Gurugram's most popular green spaces, the Aravalli Biodiversity Park.

A few months later, in February, the Haryana cabinet tabled a draft bill to amend the Punjab Land Preservation Act (PLPA) of 1900, a colonial era law which accords 'forest' status to over 1,200 acres of land in five of south Haryana's districts, including Gurugram, Rewari, Mahendragarh, Faridabad and Nuh, all of which contain a portion of the Aravalli ridge.
The state government had proposed to repeal key sections of the Act, which would remove these ecologically sensitive land parcels from the purview of the PLPA, and by extension that of the Forest Act, 1980.
"We have always known that the Aravallis are an ecologically sensitive zone that keeps a check on air pollution, helps groundwater and harbours wildlife, but these two recent incidents have brought the issue of their conservation even more into the limelight," Puneet Chadha, a resident who has been actively petitioning other citizens to educate themselves and take up the cause, said.
Close Story