Sewage backflow in Gurgaon park, Sector 15 residents irked
Sewage backflow bothers Gurgaon's Sector 15 residents who say MCG has failed to fix the problem.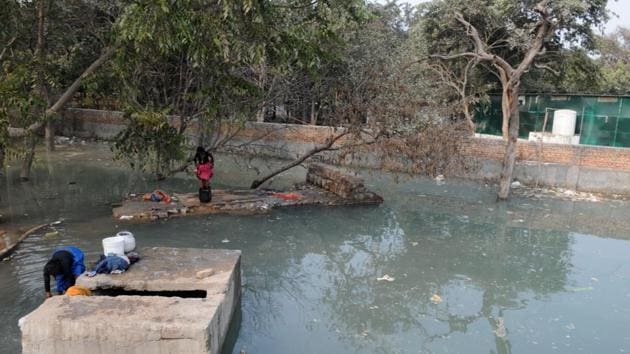 Published on Jan 22, 2017 11:16 PM IST
Sewage backflow has been haunting residents of Sector 15 for the past three days. The residents said that officials of Municipal Corporation of Gurugram (MCG) have failed to fix the problem, which has been frequently occurring for past several years.
The sewer water backflow started on Friday morning at a corner of the two-acre park in Sector-15, along the NH-8. Some residents on morning walk noticed the sewage water spread across the park with a foul smell, and informed MCG officials.
"My house is close to the park full of sewage water. The stink has spread over the entire area and it is such a nuisance. We have stopped taking morning walk in the park," said Rakesh Yadav, a resident.
A sewer chamber is located on one corner of the park. Three sewer lines from three different directions, one from Sohna Road side, one along the NH-8 and one from the sector, are joined here and lead towards Dhanvapur Sewage Treatment Plant through a master sewer pipeline. Irregular cleaning of the chamber has been frequently causing sewage overflow here.
"The outlet towards the master sewer line is fully choked which is why it overflows. MCG should clean these three lines every year, but it never happens and we suffer," said Ramesh Vashishtha, another resident.
Meanwhile, MCG officials said that men have been assigned to clean the sewer lines with super suction machines.
"The problem would be resolved very soon. I have directed the concerned officials to inspect the park and resolve the issue urgently," said MR Sharma, superintending engineer, MCG.
Close Story