Truck hits patrol bike in Gurugram; cop killed, constable injured
A 41-year-old special police officer (SPO) was killed and a 23-year-old constable sustained serious injuries when a speeding truck rammed into their motorbike on Rajesh Pilot Marg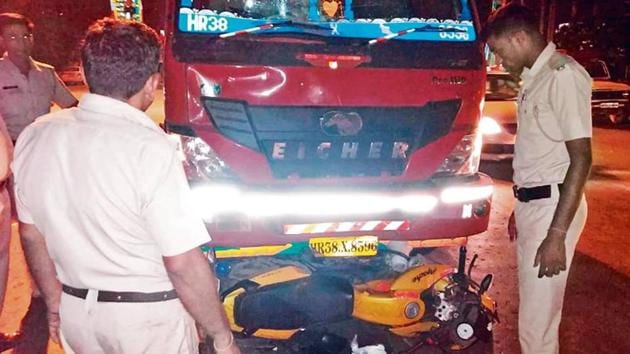 Updated on Sep 18, 2018 10:54 AM IST
A 41-year-old special police officer (SPO) was killed and a 23-year-old constable sustained serious injuries when a speeding truck rammed into their motorbike on Rajesh Pilot Marg, Sunday night. Both personnel were deployed with the Sector 65 police station and were patrolling the area when their motorcycle was hit by the truck at the Sector 61 traffic crossing, police said.
The SPO, identified as Sanjay Singh, died at a private hospital in Sector 56 due to excessive bleeding caused by injuries to his liver and head. The condition of the constable, identified by his first name Yatender, is stable. He is still in the hospital, police said.
The driver allegedly fled the spot after the accident and the police have impounded the truck, which is registered in Faridabad. The driver has been identified and police teams have been conducting raids to arrest him.
A case was registered against an unknown person under sections 279 (rash driving), 338 (grievous hurt), 304A (causing death by negligence) of the Indian Penal Code at the Sector 65 police station.
Singh had retired from the Indian army as a sepoy in 2015 after 18 years of service. A resident of Sherpur village in Pataudi, he had joined the Gurugram Police as an SPO in July 2016.
"Singh was deployed with the Sector 56 police station since he joined city police. On Sunday night, he and Yatender were on night patrol on when they met with an accident while crossing the road at around 11.10pm," ACP (crime) Shamsher Singh said.
According to the police, the two were going from Sector 56 towards Sector 61 and the truck was moving towards Vatika Chowk on the Golf Course Extension Road. The police patrol motorcycle took a turn at Sector 61 Chowk (Rajesh Pilot Marg) to go towards Ullawas Road when the truck hit the motorcycle from the left side, police said.
One of the eyewitnesses, Charan Singh, another SPO posted in Sector 56, said that he was on his way to the police station when he witnessed the accident near the Rajesh Pilot Marg. "I had just reached the crossing when I saw a speeding truck crush the motorcycle. The driver fled from the scene," Charan Singh said.
According to the eyewitness, Sanjay Singh, who was riding pillion, waved his hand indicating the truck driver to stop, but the truck hit the motorcycle which came under the truck and the vehicle dragging it for few metres before stopping. The injured were rushed to a private hospital with the help of commuters.
Earlier on January 8, a 35-year-old special police officer was crushed to death by the driver of an SUV, which was being chased by his colleagues. The accident took place when he set up a barricade to stop the vehicle from getting away on Old Delhi-Gurgaon Road.
Close Story