Visibility drops to 100m as smog engulfs Gurgaon
Tuesday smog caused by plummetting mercury, low wind speed; experts warn this to be the start of more such days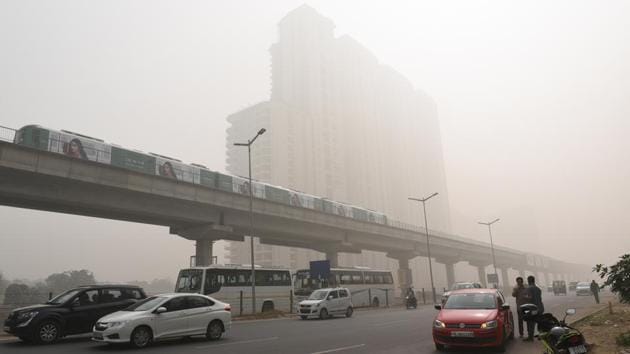 Published on Nov 07, 2017 11:19 PM IST
Heavy smog, the resulting difficulty in breathing and on-road visibility dropping to 100 metres was just a trailer of what's in store in the days to come, experts warned, adding that the region should brace for more difficult days ahead.
Tuesday was what seemed to be the start of the notorious winters the NCR has become known for over the past few years as the air quality index value (AQI), as recorded by the Central Pollution Control Board (CPCB), jumped to 368; this figure was 331 on Monday.
The AQI put Gurgaon air in the 'very poor' bracket; this level of pollution is enough to cause respiratory illness on prolonged exposure.
"Because of paddy burning across areas close to Delhi-NCR, low wind speed and dip in temperature, the region is expected to see more smog in the days to come," Anumita Roy Chowdhury, executive director of Centre for Science and Environment (CSE), said.
The minimum temperature was 17°C on Tuesday which was 2°C less than Monday. Officials at the Meteorological department said the weather is expected to remain cloudy for the next few days and temperature will fall further. The minimum temperature has been plummeting to around 18°C to 19°C in the past week, and maximum temperature has remained 27°C to 29°C.
"The condition of air quality is bad. I could smell smoke and dust, as soon as, I got out of my house," Dinesh Dighal, a resident of Sector 53, said.
Dighal was among the hundreds who complained of difficulty in breathing and irritation in the eyes as the PM2.5 level shot to 255.8 microgram per cubic metre (mpcm) from 178.3 mpcm on Monday. The permissible limit of PM2.5 is 60 mpcm in India. It consists of sulphate, ammonia, nitrates, black carbon, mineral dust and sodium chloride. As a result getting oxygen from the air becomes difficult.
"My eyes were red because of the presence of smog. It was difficult driving a bike. I am using a pollution mask, however, the fine particulate matter still becomes an issue," Anup Ghosh, a resident of Vatika City on Sohna Road who commutes to his office in Udyog Vihar, said.
Doctors have warned that people with breathing difficulties should either stay indoors or wear pollution mask while going out.
"In the last two days, more than 60% patients we have seen reported difficulty in breathing. Number of people with eye and skin allergies have also gone up by 40 % because of rise in pollutants in the atmosphere," BK Rajora, chief medical officer, Civil Hospital, said.
The smog also affected traffic movement in the city as the visibility dropped to 100 metres.
"I came to Aravalli Biodiversity Park for walk every morning. Today, because of the bad weather condition, it took me 25 minutes to reach the park from Sector 44," Vinay Kumar, a commuter, said.
Close Story