Rich or poor, TB spares no one
Hindustan Times |
, New Delhi
Rhythma Kaul & Lavina Mulchandani
Mar 29, 2015 12:34 PM IST
Of the 1,000 reported TB deaths in India every day, a large chunk is from the middle and upper-middle classes in urban India
Despite trying for over three years and undergoing basic fertility treatments, hospitality executive Vibha Singh's (name changed on request) efforts to conceive failed. The Delhi resident from upper-middle class Sarita Vihar was then advised to undergo In Vitro Fertilisation (IVF) treatment by her gynaecologist. Vibha approached Dr Nalini Mahajan, clinical director at South Delhi's Nova IVI Fertility clinic, who asked her to undergo an endometrial biopsy, a test in which a small sample of the lining of the uterus is analysed.

As Dr Mahajan had suspected, the biopsy tested positive for genital tuberculosis (GTB) and Singh was administered anti-tubercular drugs for six months.

Tuberculosis, as widely perceived, does not just affect the poor but also the rich and affluent living in the cities. According to estimates of the World Health Organisation, India accounts each year for 2.3 million of the 8.6 million new tuberculosis cases reported globally. The disease kills two people in India every three minutes, with 1,000 deaths registered each day. A chunk of the infected belong to urban middle-class India.

Vibha got lucky; she was diagnosed before the damage became irreversible. Four months later, after completing her TB treatment, she conceived naturally and now has a four-year-old daughter.

While a number of diagnostic tests are available none of these is 100% effective in detecting the disease. More than 10% cases are asymptomatic and the diagnosis is accidental. "Hence the treatment is often based on clinical suspicion and at least one positive test," says Dr Mahajan.

Shikha Madan*, 34, a homemaker from Delhi, remembers having noticed a white patch on her left wrist when she had just joined college. Initially, she did not take it seriously and kept applying moisturiser.
"After a while it started to itch and I consulted a skin specialist. I was diagnosed with eczema and was prescribed medicines and ointments. The itching subsided but the patch stayed," she says.

Her friend recommended that she consult Dr Gaurang Krishna, a senior dermatologist with New Delhi's Medlinks. He asked her to undergo a few tests, including a skin biopsy. "I tested positive for skin TB," says Madan. "I was shocked. I had never thought I could be susceptible to the disease." She was later told by her doctor that TB can affect anybody and the reasons could be family history or the impact of living behind closed doors.

"The same bacteria that cause lung TB causes skin TB as well. It is a rare condition and often gets misdiagnosed, as in Madan's case," says Dr Krishna.

From Delhi to Mumbai, the disease has spread its web far and wide. A year ago, Mumbai-based homemaker Gayatri Dayani, 30, from an upper middle-class family, began suffering from bouts of weakness and exhaustion. Even walking across the road would leave her breathless. When these symptoms were followed by a fever and paling of the skin, she decided to consult a doctor. An X-ray of her chest confirmed liquid in right lung, a sign of pulmonary tuberculosis. The diagnosis was confirmed through a test of the chest fluid.

Dayani suspects that she contracted the disease while visiting a relative at a government hospital. "It was two weeks after that that the first symptoms began to show," she says. At the time, Dayani was underweight and had low immunity. "People with low immunity are more prone to TB infection. Contact with an infected person causes the disease. In fact, each infected person, on average, infects 13 other people through tiny droplets of saliva containing the bacteria, which can be dispersed when the patient coughs, sneezes or even breathes," says Dr Rajesh Kukreja, TB consultant at Fortis Hospital, Kalyan, and the specialist who treated Dayani.

Dayani's story has a happy ending, though. Because she consulted a specialist soon after the symptoms emerged. It took a nine-month course of oral medication, an improved diet of more fruits and vegetables, and regular exercise to help boost her immunity. She is now TB-free. "Since the infection is airborne, a strong immune system is the best mode of prevention," says Dr Salil Bendre, consultant at the Nanavati super-speciality hospital.

The reasons for infection are many. Close living: work or travelling conditions raise chances of getting infected. Unhealthy diets and erratic sleep-wake cycles also lower immunity. Another major worry is that TB, particularly extra-pulmonary infection, is often misdiagnosed. These are major reasons for the rapid spread of multi-drug resistant TB, which takes longer and costs a lot more to treat. "The first-ever drug-resistant TB case in India was reported in 2013 and since then we have had 1,700 such cases annually," says Dr Jagdish Prasad, director general of health services (DGHS), Government of India. "We have treated more than 2,000 cases of drug-resistant TB but there's a need to strengthen research for better results," adds Dr Prasad.

India spent Rs 500 crore in 2013-14 on the treatment of TB, including free medicines, said union health minister JP Nadda, in a written reply in the Rajya Sabha. Under the Revised National TB Control Programme (RNTCP), 13,000 microscopy centres have been established for quality diagnosis. "The target is to eliminate TB by 2025," says Nadda.

(* Names changed on request)

Treatment Plan
Antibiotics must be taken for at least six months.
Completing treatment is necessary to prevent drug-resistant TB.
The government prescribes directly observed treatment, short-course (DOTS), to help people follow the medication schedule.
DOTS is available at health centres.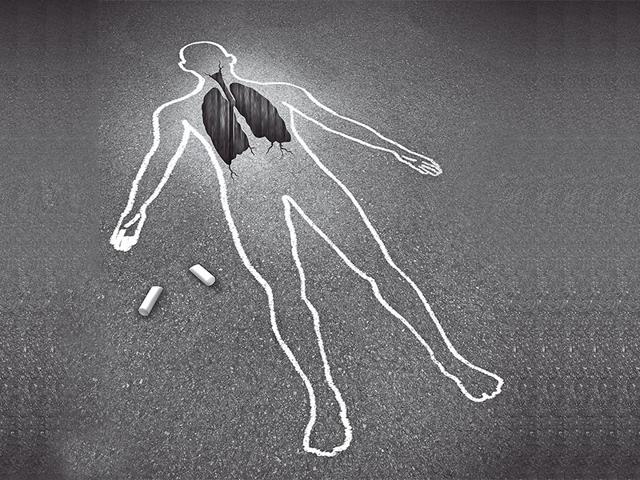 Common TB Symptoms
Weakness
Fatigue
Sudden
Unexplained weight loss
Lack of appetite
Chills
High fever (above 100 degrees Fahrenheit)
Night sweats

Lung TB Symptoms
Bad cough that lasts longer than 3 weeks
Pain in the chest
Coughing up blood or phlegm from the lungs
Fever (above 100 degrees Fahrenheit for over a week)

Signs of abdominal TB
Abdominal pain
Diarrhoea
Bleeding from the anus or rectum