How youngsters get addicted to gaming and lose control of lives
Hindustan Times, Gurugram |
Sonali Verma
Jun 27, 2018 04:42 PM IST
Gaming disorder is characterised by impaired control over gaming and an increasing priority given to gaming over other activities to the extent that it takes precedence over other interests and daily activities, says a World Health Organisation report.
Tubes of a pain relief cream, countless packs of cigarettes and tangled power cables sit atop a table in a dimly-lit room of a residence in the upscale locality of Sushant Lok-1 in Gurugram.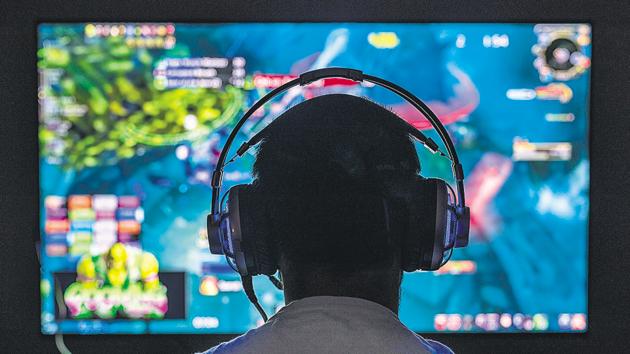 It's 1pm on a Saturday and 10 young men, aged between 23 and 26, wearing half pants, loose T-shirts and headphones, stare at a computer screen, playing Dota 2, a multiplayer online video game, in which where they battle one another to defend their bases. The room, filled with cigarette smoke, is their home till Sunday night. LAN parties like this – where gamers bring computers and hook it up to the network to take part in multiplayer computer games – often last for entire weekend, with little sleep and sunlight.
One of the gamers in the room revealed how he lost out on relationships due to the time he would spend playing.
"When I was in college, I would start playing at 8am and would continue till 3am the next day. I had more friends online than I had in real life. My online gaming friends, who I had never met before, knew more about my problems than my roommate did. I realised I had a problem when my ex-girlfriend ended our long-term relationship," the 25-year-old said.
He went on to say that he sometimes took drugs to stay awake at night, so he could play for longer. "One year, I spent 2,000 hours playing a game," he said. That equals to about quarter of a year.
He said that the number of hours he spent gaming reduced when he started working. "I was playing so much because I had a lot of free time, which reduced when I started prioritising work. I only game on weekends now and it's a lot more fun," he added.
On June 18, the World Health Organisation (WHO) classified compulsive gaming as a mental health disorder. According to the WHO, gaming disorder is characterised by impaired control over gaming and an increasing priority given to gaming over other activities, to the extent that it takes precedence over other interests and daily activities. The WHO, in the latest update to its International Classification of Diseases, said that gaming could be as addictive as cocaine and gambling.
Sameer Malhotra, a psychiatrist at Max Hospital, said he has witnessed the effects of gaming on people. "In the last few years, the number of teenagers and young adults coming for counselling over gaming addiction has risen significantly, mostly due to increasing awareness about the problem. The addiction to online gaming is mostly being seen in the age group of 12 to 25 years," he said.
Malhotra said teenagers who play for long hours at a stretch, often skip school. Describing the competitive nature of online games, Malhotra said, "People get an instant kick. You can tell they stop living in reality. Compulsive gaming super-activates the brain's rewards pathway. When there is a repeated activation of the reward pathway, things take a turn for worse."
For many of Malhotra's young patients, gaming has become a source of misery than escapism. A 13-year-old boy, based in New Delhi, was brought to him as he would play games for hours, without eating or drinking.
"His mother had to feed him at the computer table. He would even pass stool in his clothes while gaming and would not feel the need to clean up. He would complain of fatigue and would often miss school. Teenagers such as him are likely to get addicted to gaming because their prefrontal cortex isn't fully developed and is unable to overcome impulses," Malhotra said.
According to Malhotra, the boy had become demanding, irritable and was obsessed with online shopping. "He would get furious and violent if he didn't get the things he wanted," said Malhotra.
The boy was diagnosed with obsessive-compulsive disorder and is under treatment through regular medication and psychotherapy.
Roma Kumar, a senior consultant, clinical psychologist, Max Hospital, Gurugram, said that treatment for video game addiction is the same as the treatment for any other addiction. "Counselling is the most effective treatment for video game addiction," she said.
"Recognising gaming addiction as a mental health disorder was needed. However, it's important to understand that all gamers are not addicts. Only when you're becoming dysfunctional and it's taking over your daily activities is it a problem," she said.
A 25-year-old Gurugram-based copywriter, who goes by the gaming alias acridoutcast, started playing video games when he was four years old.
"I would play for around three to four hours a day usually, but during Class 10 summer vacations, I spent around 12 hours a day gaming. That set me back in studies. Such was my obsession with gaming that my parents would resort to hiding the keyboard and other computer parts. But I would search the whole house to find it and get a few hours to play when they weren't home," he recalled.
"I don't game as much now as I used to earlier. I was definitely a compulsive gamer, maybe because I wanted to go pro in gaming. Now that I'm over that age group, I don't play as much," he said.
India's online gaming market stands at $360 million, and is expected to grow to $1 billion by 2021, according to a 2017 report titled 'Online Gaming in India: 2021' by Google-KPMG. As per the report, an average Indian gamer is a below 24-year male.
Tushar Dhawan, the founder of XOing Café and Game Zone in Sector 14, said that most of his customers are single, young men.
"Not everyone can afford a gaming set-up at their homes. The gaming café is space where people come to cut loose from work," said Dhawan.
One of India's best Counter-Strike: Global Offensive players, Simar "psy" Sethi, turned his gaming addiction into a full-time career. Twenty-year-old Sethi started playing in 2013, initially at a gaming café in West Delhi, and today makes more than ₹30,000 a month doing so.
"In 2014, I qualified for a gaming tournament in Bengaluru for the first time. For that to happen, I had to practice for eight hours a day," he said.
Sethi suffers from a repetitive strain injury (RSI) that causes pain and numbness in his hands. For a competitive gamer like Sethi, his whole life is dominated by the activity and excessive gaming is a by-product of his job.
"Yes, I am addicted to gaming. But it's a 9 to 5 job for me that pays the bills," he said.