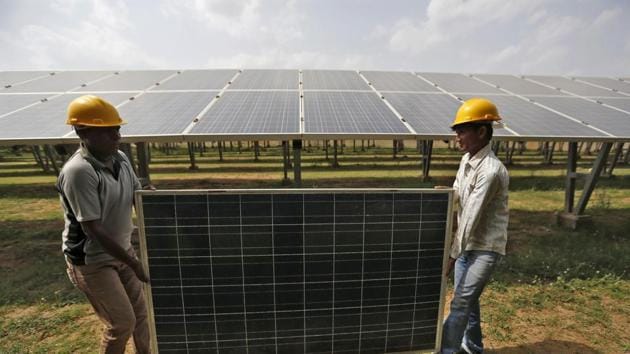 India's renewable energy sector could add over 3 lakh jobs by 2022
India could add over 3 lakh jobs in the renewable sector by 2022, according to a new report.
PUBLISHED ON JUN 21, 2017 03:49 PM IST
Underlining the idea that a shift to clean energy makes economic sense as well, a new report found that India can add over 3 lakh jobs in the clean energy sector with rooftop solar emerging as a major employer.
"Clean energy expansion is generating thousands of new jobs while meeting India's climate and economic goals," Nehmat Kaur, Consultant and Development Economist, at Natural Resources Defense Council, one of the co-publisher of the report said. "With this tremendous opportunity, India is stepping up as a global leader in demonstrating how a growing economy can scale up renewables, generate employment and provide access in the face of rising energy demands."
The report titled "Greening India's Workforce: Gearing Up For Expansion of Solar and Wind Power in India," was published by NRDC and the Council on Energy, Environment and Water (CEEW).
If India meets its ambitious goal of installing 160 gigawatts of renewable power by 2022, over 1 million employment opportunities could be created. The biggest job creators would be rooftop solar (238,000), followed by utility solar (58,600) and wind power (34,600).
The category of jobs in the renewable energy sector include solar installers, maintenance workers, engineers, technicians, and performance data monitors. "80% of the new clean energy workforce will be employed during the construction phase," Neeraj Kuldeep, Programme Associate, CEEW, said. "However, despite these being contractual jobs, the large pipeline of renewable energy projects creates enough opportunities for workers to stay employed."
Maharashtra and Uttar Pradesh will be the leading job creators in the solar sector, while the wind sector will see job creation in a few states which have the most potential to generate wind power.
In 2016-17, India's renewable energy sector added 21,000 jobs and an additional 25,000 people are likely to be employed in the coming year. "Since most of these jobs are in the rooftop solar PV segment, central and state governments must provide greater policy support to the rooftop sector," Kuldeep said.
Close