Left untreated, arthritis can affect organs, lower life expectancy
Jul 04, 2019 11:47 AM IST
Urban lifestyle fuels unhealthy eating patterns and inactivity, and is leading to nutritional deficiencies and obesity, which causes and aggravates bone and joint diseases.
At least one in four men and women in India have varying degrees of bone and joint degeneration after 50, with age-related wear and tear, injury, obesity, osteoporosis and rheumatism being the leading causes of pain and restricted movement.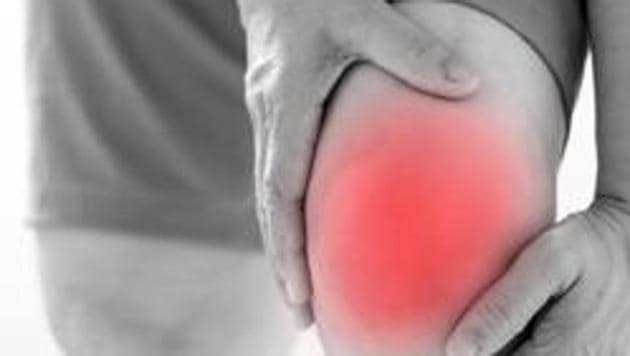 Living with pain is not inevitable, said experts. "Many people think arthritis and related conditions, such as rheumatism and osteoarthritis, are an inevitable consequence of getting older, especially if there is a family history. This misconception is not only outdated, but dangerous. With modern medicine and techniques, one does not have to put up with the symptoms of arthritis," said UK-based consultant rheumatologist Dr Taher Mahmud, who calls the failure to treat arthritis and osteoporosis effectively a medical emergency.
"Left untreated, arthritis can severely impact the quality of life, causing irreversible damage to muscles and bone structure. Severe symptoms can even affect the functioning of organs and lower life expectancy," said Dr Mahmud, co-founder of The London Osteoporosis Clinic.
Urban lifestyle fuels unhealthy eating patterns and inactivity, and is leading to nutritional deficiencies and obesity, which causes and aggravates bone and joint diseases. "Osteoarthritis and rheumatoid arthritis are common in India, especially among the overweight and people above 50-60 years," said Dr RK Arya, director, Sports Injury Centre, Safdarjung Hospital.
"Rheumatoid arthritis is an inflammatory disease that starts appearing in the 40s, usually in women with a family history of the disease. The symptoms of both, osteoarthritis and rheumatoid arthritis, are similar—painful and swollen joints. But, rheumatoid arthritis causes more disability in the smaller joints such as fingers and toes," Dr Arya said.
Pain from osteoarthritis, caused by joint overuse injuries, is usually milder in the mornings but becomes acute with continued use of the affected joint. People with rheumatoid arthritis wake up with stiff and painful joints, but experience an easing of pain as the day progresses.
Treatment focuses on a combination of therapies to relieve symptoms, improve joint function and preserve bone and joint health. "At least 30% of general physician consultations in the UK relate to musculoskeletal
problems, which account for 41% of work-related ill health. People are living in debilitating pain, even when the pain and lost productivity is largely preventable. This impacts their quality of life, productivity," Dr Mahmud said.
Treating arthritis and rheumatic conditions not only alleviates the symptoms, but also reduces bone damage and subsequent need for surgery. "In many cases, lifestyle changes, such as diet and exercise, are all that's needed to alleviate arthritic and rheumatic symptoms. For those who need it, a range of other medical options, such as injections, disease-modifying anti-rheumatic drugs (DMARDs) to slow or stop the immune system from attacking joints, can treat and reverse the conditions," said Dr Mahmud.
If the pain persists, painkillers such as paracetamol, tramadol and oxycodone, and hydrocodone preparations help relieve pain, while non-steroidal anti-inflammatory drugs (NSAIDs) lower, both, pain and inflammation.
"As a result of better treatment options, the number of people with rheumatoid arthritis needing joint repair, joint replacement or joint fusion surgeries have gone down over the past decade," said Dr Yash Gulati, consultant orthopaedic surgeon, Indraprastha Apollo Hospital.
"Losing weight is a must, as is doing gentle exercises to improve range of motion of the joint and strengthen the muscles surrounding the joints. These, however, must be done under medical supervision," said Dr Gulati.