Avengers Endgame vs Avatar: Here's how much Marvel film needs to make to become number 1 of all time
After three weekends, Avengers: Endgame has emerged as the second highest grossing film of all time worldwide. The race will be extremely close, and here's how much it needs to make to become number one.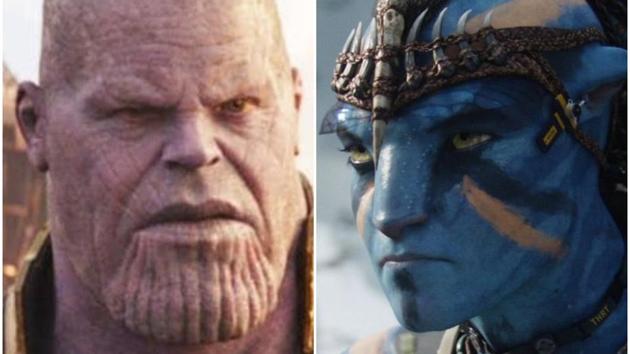 Updated on May 13, 2019 01:58 PM IST
Avengers: Endgame is slowing down at the international box office, thanks to a front-loaded opening and the arrival of Pokemon Detective Pikachu. But it's now within touching distance of usurping James Cameron's Avatar's crown as the highest grossing film of all time.
With an additional $165 million worldwide, the Marvel superhero epic is now just $302 million (Rs 2000 crore) behind Avatar, whose worldwide total stands at $2.7 billion. But Endgame registered a higher than expected drop at the US box office. Its 57% drop in the third weekend is bigger than Captain America: Civil War (54%) and Avengers: Age of Ultron (50%), according to Forbes, and Avengers: Infinity War (45%). It is now the third highest grossing film of all time domestically, trailing Star Wars: The Force Awakens (whose $900 million plus record it will not eclipse) and Avatar (which is just $37 million ahead).
Forbes predicts that the film will conclude its domestic run with around $850 million, even if it continues dropping on the higher side of expectations. Unadjusted for inflation, however, the film is at the number 24 spot in the US.
Cameron had congratulated Marvel Studios and producer Kevin Feige after Endgame eclipsed the box office record of Titanic, which was the world's highest grossing film of all time until it was overtaken by his own Avatar.
Internationally, Endgame was relegated to the number two spot for the first time since release, by Detective Pikachu, which opened to a $103 million weekend, and a further $58 million in the States. The film opened to $170 million worldwide in its first weekend, and broke records for video game adaptations.
In India, Avengers: Endgame has grossed more than Rs 400 crore, making it the biggest foreign import of all time, and the biggest film of the year so far.
Directed by Joe & Anthony Russo, Endgame served as a conclusion to Marvel's 22-film-long Infinity Saga of films. The MCU is the highest grossing film franchise of all time, with global box office receipts exceeding $20 billion.
Follow @htshowbiz for more
Close Story