Russo Brothers refuse to talk about Avengers 4 at Infinity War screening, announce break from superhero movies
Updated on Nov 29, 2018 08:19 PM IST
The Russo Brothers refused to talk about Avengers 4 let alone release the film's trailer at a recent screening of Avengers Infinity War.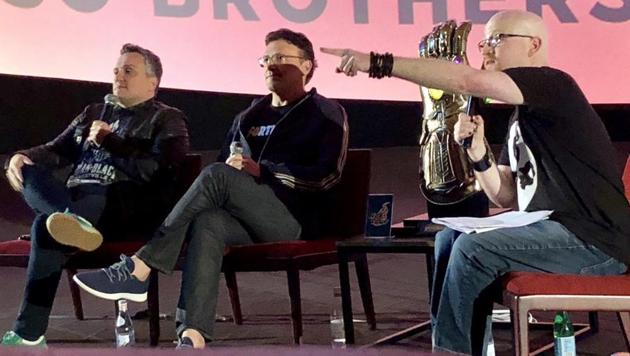 Director duo Russo Brothers—Anthony and Joe—left their fans disappointed once again on Wednesday at a special screening of their blockbuster movie, Avengers: Infinity War. Not only did they not bring along the trailer of Avengers 4, as was highly expected, they also refused to talk about the upcoming film and even announced a break from superhero movies.
Joe Russo showed off the air horn app on his cell phone to warn the journalists and fans, present at the QnA session after the screening, to not ask them about Avengers 4 or even the trailer. Marvel fans were counting on the event to drop the first trailer and title for the film, considering the first trailer for Avengers Infinity War was also launched at the same time last year.
The brothers also revealed that they will now take a break from superhero films and no deals with Fox or the lure of X-Men universe will be enough to get them back on it. However, they did leave some hope for a comeback if they are allowed to make Secret Wars.
Joe and Anthony did talk at length about Infinity War. They revealed details about the status of Vision and that he is totally dead after Thanos pulled the Mind Stone out of his head. They also said that Thanos could figure out the real Dr Strange from all the replicas during the fight on Titan by pulling out his soul with help of the Soul Stone.
The directors also said that the already massacred Asgardians lost another half of their population when Thanos snapped his fingers and that they fired Mark Ruffalo after he spoiled the film two years ago at the interview.
Avengers 4 will hit theatres in May 2019 and will bring back half of our favourite superheroes.
Follow @htshowbiz for more
Personalise your news feed. Follow trending topics