When a woman's choice to love and live becomes her death wish
Two murders and a slap expose the working of a mindset that's uncomfortable with a woman expressing her freedom to love and make love with whoever she wants. The consequence of a woman exercising her freedom to choose and live life as she wishes can be harsh.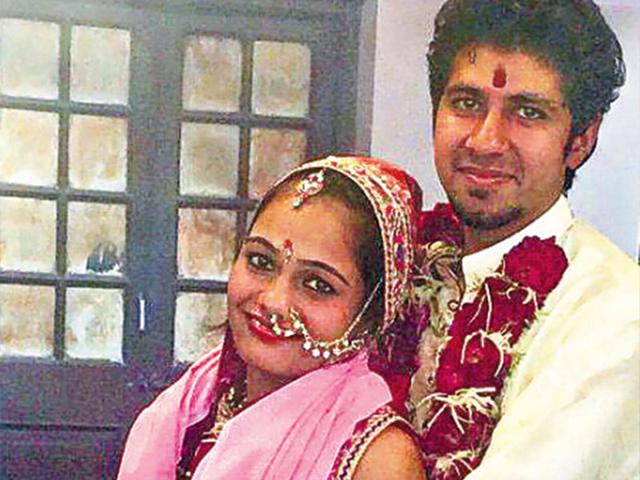 Updated on Dec 11, 2014 02:30 AM IST
Sonu Kumar and Danista loved each other but hate triumphed. Kumar, a young Dalit craftsman in a village in Uttar Pradesh's Hapur district, and Danista, a Muslim, married against their families' wishes. They were hacked to death in broad daylight by Danista's brother on November 29.

Danista's family, it was reported, was against Kumar because he wasn't a Muslim.
Bhawna Yadav, a Delhi University student, was allegedly strangled to death by her parents and cremated secretly just three days after she married her boyfriend who belonged to a different caste. Yadav's parents, before killing her, allegedly accosted her for 'dishonouring' the family when they had fixed her marriage with a man of their caste.
A strong communal whiff emanates in Sonu and Danista's killings and caste prejudice marks Bhawna's murder, but what binds both the grotesque crimes together is the working of a mindset that's uncomfortable with a woman expressing her freedom to love and make love with whoever she wants.

Danista and Bhawna Yadav's families could not even reluctantly accept, leave alone respect, the choices made by their daughters. "The denial of autonomy to women and the idea of 'controlling our daughters' are very much prevalent in Indian society. It often manifests itself through, among other aspects, casteism and religion-based discrimination," says Kavita Krishnan, secretary of the All India Progressive Women's Association (AIPWA).

Film and reality TV star Gauahar Khan was slapped by a man who wanted to teach her a lesson for wearing a short skirt. The man claimed that crimes against women will decrease if actresses stop wearing short dresses. The assault is nothing compared to the three murders, but again shows patriarchal intolerance.

Compare the assault on Khan to a Hindu Mahasabha politician branding actresses who dance to the tune of 'item songs' as "prostitutes". The comment has been termed as 'regressive' by political parties and the National Commission for Women (NCW).

"The attack on Gauahar Khan or the referring to actresses who dance to item songs as prostitutes, both reflect the same ideology. Religious orthodoxness comes in to deny autonomy to women," Krishnan says. "The saddest part is that today's dominant politics openly aims at denying autonomy to women."

The consequence of a woman exercising her individual freedom to choose and live life as she wishes can be harsh, ranging from a mere slap to brutal murder.

"In Indian society prevalent cultural codes are often written on women's bodies and any kind of subversion in terms of behaviour, dressing, or relationship is dealt with very harshly," says Anjali Monteiro, professor and dean, School of Media and Cultural Studies, Tata Institute of Social Sciences, Mumbai.

"Right to choose, right to decide and even right to public spaces are getting increasingly restricted for women. And the problem is such restrictions are often normalized by the actions and comments of people in power--sections of politicians, judiciary and police," says Monteiro.

LOVE, KISS AND JIHAD

Women's right to autonomy clashes with 'love jihad', a term used by some political and religious leaders to describe relationships between Muslim men and Hindu women as an alleged strategy aimed at conversion and long-term demographic change.

"Love jihad is trap of Muslim organisations to seduce Hindu girls, to use Hindu women for physical desires, to convert them, to sell them or to use them for terrorist activities," says an article in the Organiser, the mouthpiece of the Rashtriya Swayamsewak Sangh, the ideological guide of BJP.

'Love jihad', says novelist and poet Meena Kandasamy, assumes that women are incapable of thinking for themselves.

Intolerance for the idea that women can think, love or marry by their own choice came to the streets during the 'Kiss of Love' movement. Men joining the protest in Delhi "were repeatedly asked if they would 'let their mothers/sisters/wives to kiss in public".

A Facebook post summed up the reply: "Yo, will you give me your sister to kiss?

If she feels like kissing you I have no need to interfere. But she should feel like kissing you. The kiss must be welcome to both parties. Otherwise, if you pile on and try to kiss her you might end up measuring the thickness of her slippers. If you are prepared to receive that in front of everyone, come on over. If you feel brave enough to kiss with mutual consent then come on over."
Close Story
Personalise your news feed. Follow trending topics