HTLS column by Srikanth Kondapalli: Emerging as a beacon in the neighbourhood
Updated on Nov 28, 2017 03:14 PM IST
India's policies, that spurred a 7% GDP rise, are transforming ties with neighbouring countries. We need to scale up our development model.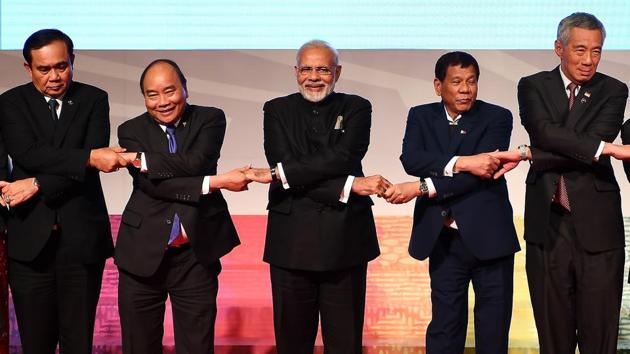 Hindustan Times |
Srikanth Kondapalli
The juggernaut of India's charm offensive in the neighbourhood is continuing despite many odds. At a time when every major power is enunciating a policy that puts their "country first", India advocated "neighbourhood first", and has been steering regional dynamics towards more stable, prosperous and democratic outcomes. This is quite a contrast to China's progression recently of "setting up a different kitchen".
With a huge geographical land mass, ensconced in the vast oceanic littorals, and the demographic dividend of a younger population profile, India is today unravelling its growth story with over 7% GDP increase, while China is entering a "new normal" phase of lower growth rates.
Many a credit rating agency has given a thumbs-up as India jumped in the ease of doing business rankings. Moody's recently downgraded China. Direct investments are increasing year-on-year compared to those in once-favourable destination China. Public debt is under 70% of GDP compared to a whopping 272% for China. However, India has a lot of catching up to do with China in other aspects.
India's neighbourhood-first policy is delivering goods and services in a sustainable manner, with infrastructure projects funded with low-interest loans such as in the BBIN (Bangladesh, Bhutan, India, Nepal) and BIMSTEC (Bay of Bengal Initiative for Multi-Sectoral Technical and Economic Cooperation) projects. This is, again, in stark contrast to the debt-ridden projects of Hambantota and Gwadar ports financed by China. India's Comprehensive Economic Partnership agreements with Southeast Asia, Japan and South Korea are transforming ties with trade deficits, labour and local concerns in mind.
Territorial dispute resolutions with Sri Lanka and Bangladesh, including observing the UNCLOS provisions and handing over islands to Bangladesh, have raised the Indian stock and are in sharp contrast to China's position on The Hague Tribunal ruling last July on South China Sea or the Chinese attempt to grab territory in Doklam recently from tiny Bhutan.
The gradual unfolding of "free and open" Indo-Pacific with rule of law, peaceful resolution of disputes, connectivity with the Japanese idea of Partnership for Quality Infrastructure, counter-proliferation of weapons of mass destruction, counter-terrorism and the like have been positing alternatives to the neighbourhood in a powerful coalition of the willing. This is bound to lead to tectonic shifts in the region in near future.
The main challenges are going to come from China, which has set about widening its footprint globally and regionally. Its assertion in the East China Sea with transgressions on Japanese-controlled Senkaku islands is increasing and its hold strengthening over the crucial Miyako Straits with the Air Defence Identification Zone and military exercises.
Beijing's foray into South China Sea is resulting in sharp differences in the once-united ASEAN. China's nuclear and conventional arms transfers to Pakistan and its double standards on terrorism are destabilising South Asia. Its One Belt One Road is intruding into Indian-claimed Kashmir.
The just-concluded 19th Communist Party Congress at Beijing suggested China wants to be at the "Centre Stage" by 2050 with an elaborate road map aimed both at economic diversification -- increasing domestic consumption, the spreading of the services sector and turning state-owned enterprises into global entities -- as well as an integrated joint military operations build up. Moreover, in a reversal of its policy of "keeping a low profile", the Party Congress suggested China showcase its authoritarian development "model" to other developing countries to emulate.
Chinese scholars have derided India's combining of democratic values with modernisation of caste and communal society and took pride in China's authoritarian development model. This will be an area of much ideological conflict between India and China in the coming years. This is also the time for India to showcase its "Mumbai Consensus" model of democratic, sustainable development with social concern.
While India shied away from commenting on the democratic revolutions taking place at the global level, confining itself to South Asian neighbourhood, Prime Minister Narendra Modi touched upon the subject when he spoke in Japan in late 2014 about the spread of democracy.
In order for India to be the beacon in the neighbourhood, it needs to sharpen up on the experiences drawn from the Uri surgical strikes on terrorism across the border and rescuing Bhutan in the Doklam case. While these suggest India is "punching appropriately" as National Security Advisor Ajit Doval once remarked, to be a "leading power" in a comprehensive sense the country needs to further scale up its developmental model by bringing in "non-reciprocity" and other principles.
(The author is professor in Chinese Studies at JNU, New Delhi)