ICC Champions Trophy: Rohit Sharma has no issues opening for India
Updated on May 22, 2017 11:35 PM IST
Rohit Sharma was out of Indian Cricket Team since October 2016 after suffering a thigh injury which required surgery. The Mumbai Indians captain is part of India's ICC Champions Trophy squad.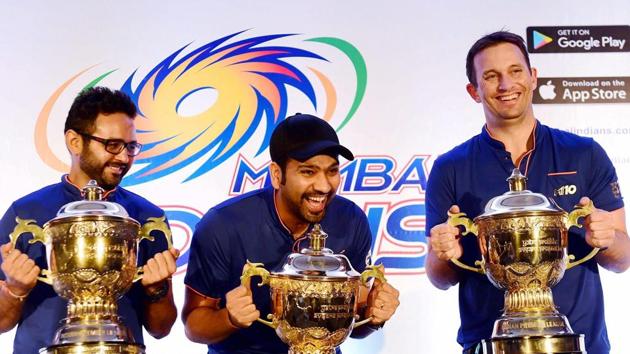 Till Sunday, Rohit Sharma was batting at No 4 for IPL 2017 champions Mumbai Indians. Come June 4, when India play their first match of the Champions Trophy against arch-rivals Pakistan, Rohit will be handling the opening duties in one of the most high-voltage matches in world cricket.
While batsmen around the world don't like their batting position to be tinkered with, Rohit isn't a worried man, stating that in modern cricket it's all about adapting to the situation.
Read | Mitchell Johnson - Mumbai Indians' go-to man in IPL glory
"When you play for India, it's a different format. I don't see why people compare IPL and international cricket. My requirement here (with Mumbai Indians) was in the middle-order, and that's what I did," said the Rohit, one of India's impact batsmen in limited-overs cricket.
"We realised at the start of the IPL that it's better for me to bat down the order to get that balance right. I go there (to play for India), it's a different thing. I don't see that we need to make any comparisons when it comes to the IPL and international cricket," added Rohit, who finished IPL with 333 runs, becoming the only player after Suresh Raina to score 300-plus runs in all editions of the IPL.
Read | Jos Buttler takes off towel while celebrating Mumbai Indians' IPL 2017 title win
Smooth Transition
While he didn't score the same amount of runs he did when Mumbai Indians won the crown in 2013 and 2015, he is happy with his form going into the Champions Trophy (June 1-18).
Rohit was out of action since October 2016 after suffering a thigh injury which required surgery. He returned to action for Mumbai in the Vijay Hazare Trophy domestic one-day tournament in March.
The Champions Trophy thus is a comeback for Rohit to the international arena. He feels the transition from IPL to the international arena will be smooth.
Read | IPL 2017: Top 10 youngsters who made a mark in this edition
"It has happened for 10 years -- players going on to play Test cricket or 50-over games after IPL. I don't think it's going to be difficult to adapt in this age. All it needs is to develop the mindset," said Rohit, who has scored 5,131 runs in 153 ODIs.
While the IPL Governing Council hasn't set the guidelines for player retention for the next edition, Rohit would love to stay with Mumbai Indians rather than go into the mega auction. "I would love to play for my state franchise. I have played all my cricket in Mumbai and lived here all my life. We would also be happy to retain the whole squad," he said.
Personalise your news feed. Follow trending topics