2 warships, chopper, aircraft: Navy pulling out all stops to rescue sailor stranded in ocean
Sep 23, 2018 07:23 AM IST
Commander Abhilash Tomy was badly injured after his yacht was hit by a vicious storm mid-way across the southern Indian Ocean while taking part in the Golden Globe Race.
The Indian Navy on Saturday dispatched two warships and an aircraft to rescue one of its finest sailors lying incapacitated on a bunk inside a small sailing vessel in one of the loneliest places in the Indian Ocean, with 14-metre high waves and 130 kmph winds battering his boat.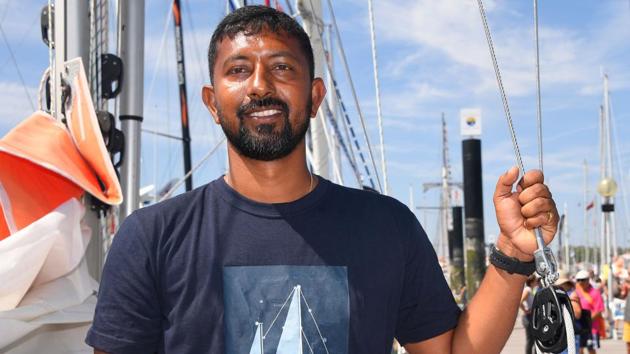 Commander Abhilash Tomy's satellite phone is down, the batteries on his emergency texting unit are draining fast and the nearest warships are at least five days away.
His coordinates are known as of now but may not be for long as the external tracking unit giving position data may go flat due to a power failure.
There's a reserve sat phone, a back-up texting unit and a handheld VHF radio in his emergency kit. But Tomy just can't move because of severe back injuries he suffered after his indigenously built sailing vessel Thuriya was dismasted in stormy seas on Friday.
As the 39-year-old endures a sailor's worst nightmare, the navy sent stealth frigate INS Satpura with an embarked Chetak Helicopter, tanker INS Jyoti and a P-8I aircraft to carry out the challenging rescue mission.
"The Indian Navy has put its might behind this rescue effort. And we will get Tomy," said navy spokesperson Captain DK Sharma. Tomy, an accomplished sailor and a Kirti Chakra awardee, is representing India in the Golden Globe Race 2018 (GGR).
"He is in the south Indian Ocean, approximately 1,900 nautical miles from Perth, Australia, and 2,700 nm (approx 5020 km on ground) from Cape Comorin (Kanyakumari)," the Indian Navy said in a statement. Tomy became a national hero in 2013 when he became the first Indian to circumnavigate the globe – solo, non-stop and unassisted.
Tomy was in the third position among 11 international participants and had sailed over 10,500 nautical miles in the last 84 days since the race began on July 1.
"Extremely difficult to walk, Might need stretcher, can't walk, thanks safe inside the boat, Unable to reach 2nd YB3 (texting unit) or anything. Sat phone down," Tomy said in a message posted on the GGR website. Painting a grim picture of Tomy's ordeal, the GGR said he was "as far from help as you can possibly be".
The Australian Rescue Coordination Centre at Canberra is coordinating the rescue mission along with several agencies, including the Australian Defence Department and the Indian Navy.
The GGR website said the external tracking unit on Tomy's boat was still providing position data to the online GGR tracker but the power link to the boat's batteries was damaged and it could soon go flat.
"A French fisheries vessel may be headed to the scene, but may not arrive for a few days. An Australian Navy vessel may be considered for assistance, but that may be 5 days or more away. Notice has been sent to any/all ships in the area to check if they can assist the distress situation," the GGR website said.
"Thank you for your support and concern in these trying times. Abhilash has sustained some serious back injuries, however he says he's safe inside the boat. Indian Navy is doing their best as they always have. His tracker is working. He has activated the EPIRB (emergency position indicating radio beacon.) Help is on its way," said a message posted from Tomy's Twitter account.
Rear Admiral Jonathan Dallas Mead, commander, Australian Fleet, said he had dispatched a ship and it would take six days to reach Tomy's location in the treacherous conditions. Mead, who attended National Defence College in Delhi, sent a message to his course-mates saying, "We will find your man."
Exciting news! Mint is now on WhatsApp Channels
Subscribe today by clicking the link and stay updated with the latest financial insights!
Click here!
Get
Latest India News
along with
Latest News
and
Top Headlines
from India and around the world