33 per cent of the world's child brides are in India: Report based on last Census
Published on Jul 21, 2017 07:36 PM IST
The report by ActionAid India found that rural regions account for 75 per cent of all instances of child marriages.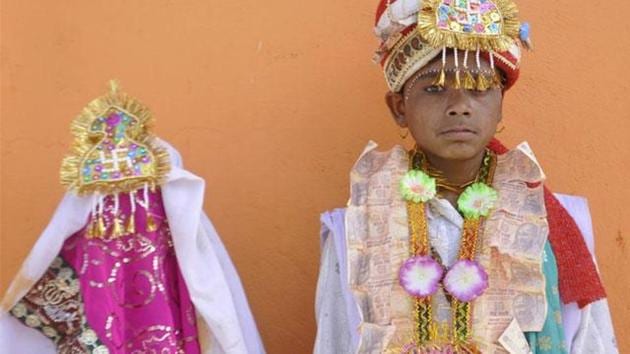 Press Trust of India, New Delhi |
Press Trust of India
India contributes 33 per cent of the total number of child brides in the world with nearly 103 million Indians married before they were 18, said a report released on Friday.
An estimated 85.2 million of the 103 million were girls, said the ActionAid India report, 'Eliminating Child Marriage in India: Progress And Prospects', released by actor-activist Shabana Azmi.
At 103 million, the number of child marriages is more than the total population of Philippines (100 million) and Germany (80.68 million), stated the report, analysing data from Census 2011.
Of every 28 girl child marriages occurring per minute in the world, more than two take place in India. Elimination of girl child marriages can help avoid 27,000 neonatal deaths, 55,000 infant deaths and 1,60,000 child deaths, it said.
"Patriarchy is at the root of child marriage, and patriarchy has to be tackled completely to eliminate child marriage. Spreading education and building confidence amongst girls enables them to resist child marriage and chart their own lives," Azmi said.
The numbers are huge and should be taken seriously, she added, saying education reinforces gender divide.
"Even in textbooks, where is the father? Father is in the office. Where is the mother? She is in the kitchen. Why can't mother and father both be in the office and be in the kitchen? We need to see with a magnifying glass what is being taught to our children."
According to Srinivas Goli, assistant professor, Centre for the Study of Regional Development, Jawaharlal Nehru University and author of the report, child marriage needs to be looked at as an economic issue.
"India needs to realise that child marriage is not just a human rights or gender issue. It is a huge demographic, health, education and economic issue. If we cannot eliminate child marriages, it will become a huge hindrance to India's economic prospects in the form of unhealthy and unskilled workforce. The more skilled workforce alone can contribute to a GDP 1.7 per cent," Goli told PTI.
The report found that rural regions account for 75 per cent of all instances of child marriages. Seven states (Uttar Pradesh, Andhra Pradesh, West Bengal, Rajasthan, Bihar, Maharashtra and Madhya Pradesh) account for 70 per cent of child marriages in the country.
Child marriage cannot be directly linked to socio-economic factors as six of the 10 states that account for a significant proportion of marriage below 18 years of age are socio-economically better-off states. These states are former Andhra Pradesh, West Bengal, Maharashtra, Tamil Nadu, Karnataka and Gujarat.
Also read | Child marriage is a form of human trafficking