UP roadways bus runs over 6 migrant labourers on way to Bihar from Punjab
Updated on May 14, 2020 11:38 AM IST
The incident took place between Ghalauli checkpost and Rohana toll plaza on Saharanpur- Muzaffarnagar state highway at around 12.30 am. The bus driver fled the spot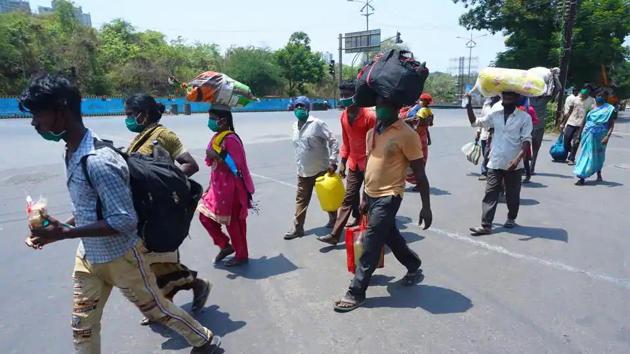 Hindustan Times, Meerut |
S Raju | Edited by Kanishka Sarkar
Six migrant labourers died and four were injured when a roadways bus ran over them on Uttar Prdaesh's Saharanpur- Muzaffarnagar highway 59 late Wednesday night.
The group of labourers was walking back to their village Gopalganj in Bihar from Punjab after closure of the factory where they worked.
Two critically injured labourers were referred to a hospital in Meerut while two others who sustained minor injuries are undergoing treatment at Muzaffarnagar district hospital and will be discharged later in the day.
Watch | Lockdown: 14 migrant workers killed in separate road accidents in UP, MP
Ten people were brought to the hospital late Wednesday and six of them were declared dead after examination, Dr Vineet Ksushik of Muzaffarnagar district hospital said.
The incident took place between Ghalauli checkpost and Rohana toll plaza on Saharanpur- Muzaffarnagar state highway at around 12.30 am. On hearing screams of the injured, nearby villagers rushed to the spot and informed police. The injured were immediately taken to the district hospital.
Meanwhile, taking advantage of darkness the bus driver fled the spot. The police are trying to identify him using the CCTV footage of the toll plaza.
The deceased were identified as Harek Singh(52), his son Vikas(22), Gudd (18), Vasudev (22), Harish Sahni (42) and Virendra (28). Those admitted to Meerut were identified as Sushil and Ramjeet.
Personalise your news feed. Follow trending topics