Aadhaar verdict historic, scheme saves govt 90k crores annually: Arun Jaitley
New Delhi |
Press Trust of India
Sep 26, 2018 08:00 PM IST
The Supreme Court judgement kept the provision of Aadhaar mandatory for filing of IT returns and allotment of Permanent Account Number (PAN).
His colleague and Law & IT Minister Ravi Shankar Prasad said the court has held that the purpose of issuing Aadhaar to all Indian citizens is legitimate and no surveillance is possible.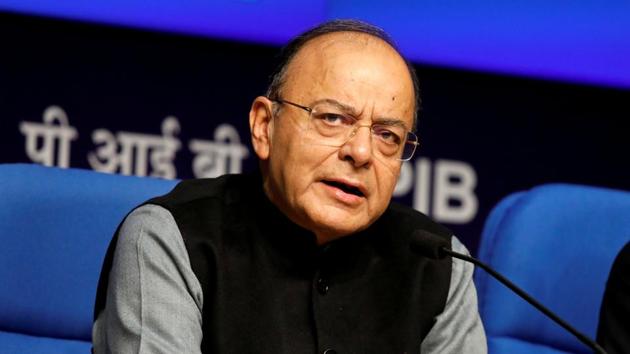 "It is a historic judgement and the whole concept of unique identity number that has been accepted after judicial review is an extremely welcome decision," Jaitley told a news conference here.
He said the court has also upheld that the Aadhaar legislation, which mandated assigning unique identification number of Indian citizens, was a Money Bill.
A money bill is to be approved by the Lok Sabha only and the Rajya Sabha, where the ruling combination did not enjoy majority when the Act was passed in March 2016, only returned it after discussion.
"You can always have fringe elements who are opposed to these ideas but you at least expect those in the mainstream to really accept changes that are taking place," he said.
To critics, he said "you cannot defy technology. You cannot ignore it." "The court while upholding the core of (Aadhaar) legislation and the principal purposes for which it was brought has observed with regard...we will certainly study the judgement and I think its a great step forward for the use of technology in governance," he said.
The Minister, who showered lavish compliments on previous UPA government's Aadhaar-architect Nandan Nilekani and the programmes current head Ajay Bhushan Pandey, said 122 crore people in India now have the unique identification cards that are being used to disperse government subsidy and welfare measures.
"There are no fake or duplicate or non-existent beneficiaries (of government schemes). We are already saving Rs 90,000 crore every year," he said.
"This judgement is a judgement of empowering democracy, good governance, service delivery and also empowering the ordinary Indian," Prasad said.
Responding to the Congress charge that the apex court deleting private usage of Aadhaar is a "slap" on government's face, Jaitley said the opposition party when it was in power brought in the ID programme without any legislative backing and without specifying what it was meant for.
"Obviously, the Congress party cuts a very sorry figure. They introduced the idea and then did not know what to do with it.
"The version they had drafted was there shall be an Aadhaar Card. This is a procedure which it shall be issued, what it will be used for was unclear from the beginning. Now you do not need an Aadhaar card which is not to be used for a particular purpose," he said.
When the government re-drafted the legislation, it replaced the 'pith and substance' that it was for conferring benefits to the deserving. "And therefore if you want these benefits you have to produce some identity," he said.
Noting that technology as a tool of governance as an instrument of conferring benefits to people as an instrument of revenue collection, Jaitley said, "I think is a concept which nobody can deny and the Supreme Court after reviewing this has held this to be constitutionally valid."