After 30 years of service, retired army officer from Assam branded as a Bangladeshi
Oct 01, 2017 11:22 PM IST
Assam police registered a case against the retired JCO, alleging he entered Assam illegally after March 25, 1971 without possessing any valid documents.
A retired army officer was asked to prove his Indian nationality as Assam police branded him a Bangladeshi, an action that reflects the long and contentious conflict over illegal immigrants in the northeastern state.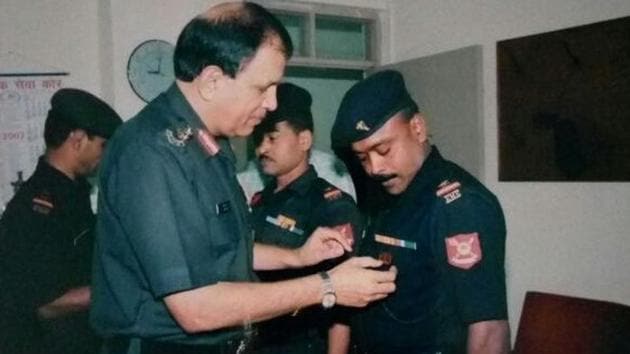 A foreigners tribunal served a notice to Mohammed Azmal Hoque, who retired as a junior commissioned officer (JCO) last year after serving the army for 30 years.
The Guwahati-based Hoque maintains that his family is indigenous Assamese and his father's name is mentioned on the voters list of 1966. His mother's name was listed in the 1951 national register of citizens.
"I have no doubt that I will get justice. But it pains me when my daughter questions me if this is how the country treats those who serve it for so many years," he said on Sunday.
Hoque enlisted in 1986 in a non-combat role technician and retired from the army's corps of electronics and mechanical engineers (EME) as subedar. He served in several places, including border areas in Punjab and Arunachal Pradesh.
His wife, Mamtaj Begum, was summoned by a tribunal in 2012. She was cleared as she had the necessary citizenship documents.
The couple's son is studying in the Rashtriya Indian Military College in Dehradun and daughter at Army Public School in Guwahati.
"This incident has saddened me a lot. Even after 30 years of service to the nation, we are asked to prove our identity. This is unnecessary harassment," he said.
The tribunal had served notices to government officials before and a talked-about instance is Assam police constable Abu Taher Ahmed, who was accused of being an illegal immigrant. Ahmed was absolved after he proved his nationality.
There are 100 tribunals set up in the state under the Foreigner (Tribunal) Order of 1964 to determine the status of people whose Indian nationality is found to be doubtful. Their primary job is to detect immigrants who entered India illegally after the creation of Bangladesh in 1971.
Infiltration of Bangladeshi immigrants is an emotive issue in Assam, which witnessed a six-year anti-foreigner agitation from 1979. The stir ended after March 25, 1971, was set the cut-off date for detection and deportation of illegal Bangladeshis.
The notice to Hoque mentioned that the district police have charged him with entering Assam illegally without valid documents after March 1971.
The notice issued on July 6 asked Hoque to appear before a court on September 11.
But the 49-year-old failed to do so as the letter reached his ancestral village, Kalahikash, near Boko, nearly 70km from the state capital, after the assigned date.
He will now have to appear before the tribunal on October 13.
Official records say nearly 80,000 foreigners were detected in Assam since 1986 and over 29,000 were deported. Around 200,000 cases are pending in the tribunals.
An interim report submitted earlier this year by a government-appointed committee to suggest measures for protecting land rights of indigenous people said illegal Bangladeshis outnumber indigenous people in 15 of the state's 33 districts.