Air India Grooming Diktat: How much is too much?
Published on Nov 27, 2022 07:54 PM IST
Grooming experts weigh in on the new rules for crew that include prohibition of grey hair, certain pieces of jewellery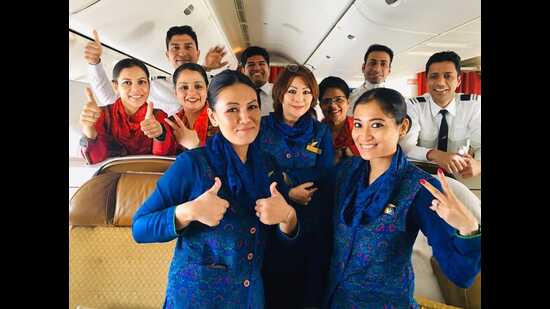 Grooming experts weigh in on the new rules for crew that include prohibition of grey hair, certain pieces of jewellery
A number of airline companies have, in the recent past, issued new guidelines for their respective crews. While British Airways, striving to go gender- neutral, has permitted male crew to sport makeup, nail paint and "man buns", firms closer home, like Air India, are a lot more stringent. From getting rid of grey hair to which makeup brands to use, there's a diktat governing them all.
"We always had a grooming manual. But, with the airline going private, the list provided is much more detailed, and stricter, too," an Air India flight attendant tells us, on the condition of anonymity.
While most airlines have a prescribed set of guidelines to be followed by the crew in order to ensure uniformity, some grooming experts are of the view that a few guidelines now laid down have taken things a bit too far. "Guidelines that suggest grey hair to be dyed and people with receding hairlines to shave their heads, are out of line. Not everyone is okay with hair dye; some may be allergic. Also, things like mangalsutra not being allowed is something they should have given a second thought to," says Shivani Sharma, an image coach.
While grooming experts agree that a smartly dressed cabin crew bodes well with fliers, they believe matters of faith are best left untouched. "Trust and approval come automatically if you see a well-dressed, confident person. It's psychological. But [the rules] may not go down well with a few. For example, restrictions on rings, religious emblems, etc. are pushing boundaries," says MJ Shekhar, a personal grooming expert, adding, "The silver lining is, there is an equal approach to men and women. Else, it tends to be the duty of only female crew members to look and be at their best."
While murmurs of dissent are slowly surfacing on social media, experts say the norms are necessary for the airline to come on par with global standards. Neeleshwari AB, director of a grooming school, says, "To attain and deliver world-class services, personal choices and comfort zones have to be renounced."
Airline officials, when asked, refused to comment on the matter.
The low-down on guidelines issued by AI
For Men:
Bald look is permitted. Men with receding hairline and bald patches must sport clean shaven/bald look.
Head must be shaved daily. Crew cut is not allowed.
One ring in wedding band design is allowed.
For Women:
Two rings are allowed (one on each hand), each with a width of one centimetre.
Foundation and concealer matching the skin tone are mandatory.
Personal shades for lipstick, eyeshadow, nail paint aren't permitted.
Pearl earrings aren't permitted.
Common Rules:
Black and religious threads on the wrist, neck and ankle, religious rings with coloured stones and pearls are not permitted.
Grey hair is not permitted. Hair should be coloured regularly in natural shades.
During layover and hotel stay when on leave, dress in smart casuals. Torn jeans, slippers/flip flops and revealing clothes are not permitted.