Not just love: Man carried out Bhopal hostage drama to become famous, say police
A 30-year-old man had taken a woman hostage at gunpoint at her home in Madhya Pradesh's Bhopal.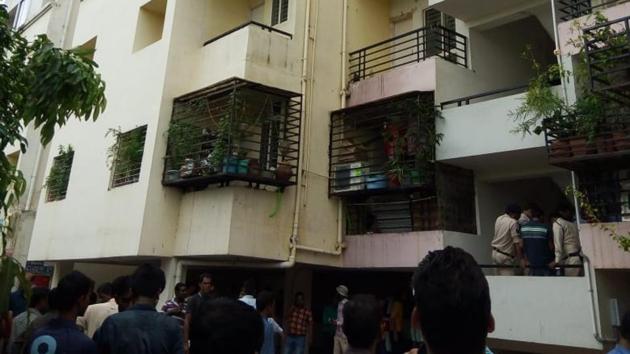 Updated on Jul 15, 2018 10:32 AM IST
Initially, love was the only motive Rohit Singh would cite for holding an aspiring model hostage at her Bhopal apartment over a period of 12 hours on Friday. But now, following sustained questioning since the time of his arrest, a new one has emerged.
Police said that Singh – a resident of Aligarh – wanted to gain his 15 minutes of fame by pulling off the hostage drama. He let the woman go only on Friday evening, after police convinced him that they would help the two get married.
The "quest for fame" motive was also backed by the woman he had held hostage at gunpoint through Friday. In a statement to the media, she said Singh would often go towards the window and brag about how he had succeeded in making mediapersons gather there with cameras and microphones.
"I will become famous, you see! Nobody knew me yesterday, but the entire country knows my name now," the woman quoted her captor as saying, adding that he would also check his mobile phone for media coverage of the hostage drama.
Superintendent of police (south) Rahul Lodha said that Singh's love for publicity was apparent, although he did not initially say it in as many words. "He made several videos and forwarded them to journalists, demanding that they be posted on the social media. One of the grisliest videos that did go viral was the one that showed blood on the floor," he added.
The woman has sought capital punishment for her stalker. "He has threatened to kill me once he comes out of jail. That is why I want him to get the death penalty," she said.
Residents of the apartment complex reportedly beat Singh with shoes when police took him to the scene of the crime on Saturday morning. He was later produced before a court and remanded in police custody for a day.
The woman described the 12 hours spent with Singh as the most difficult period in her life. "I signed an affidavit stating that I wanted to marry him because I sensed that he would kill me otherwise," she said, adding that the accused had been stalking her for a while now.
Lodha said Singh's family has refused to provide him with any help.
Close Story