All this happened because I embraced Islam: Hadiya after SC restores marriage
Hindustan Times, Thiruvananthapuram |
HT Correspondent
Mar 10, 2018 10:46 PM IST
Hadiya, 26, earlier Akhila Ashokan, embraced Islam and married Shafin Jahan, a Muslim. Hadiya's father alleged that she was forcibly converted by groups with links to terrorist outfits.
Returning to her home state, Kerala, two days after the Supreme Court upheld the validity of her marriage to a Muslim man, Hadiya Jahan on Saturday blamed the ordeal she experienced on the fact that she had converted to Islam before the wedding.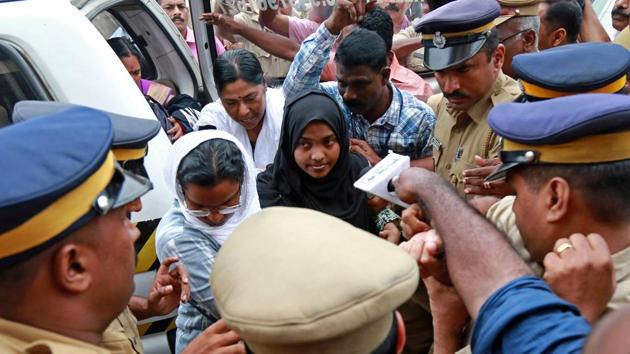 Hadiya, and her husband Shafin Jahan, called on the chairman of the Popular Front of India, E Abubaker, in Kozhikkode, north Kerala, to thank him and his organisation for providing legal help to reunite them.
On Thursday, the Supreme Court upheld the validity of their marriage, overturning a Kerala high court order that annulled their marital union as a sham.
Hadiya, born Akhila Asokan, converted to Islam in January 2016 and married Jahan in December the same year. In May 2017, the Kerala high court annulled the marriage on a petition by her father KM Asokan, an ex-serviceman who alleged that she had been indoctrinated and forcibly converted .
"Why should a person who wants to convert go through such hassles? Our constitution gives the freedom to choose any religion. I feel this happened because I embraced Islam. With the SC order, I feel I got my freedom again," Hadiya told reporters after the meeting with Abubaker, adding that she had suffered for exercising her fundamental right.
"Freedom of faith is a fundamental right of every citizen. When I was denied this freedom, the PFI supported me fully. So we are here to thank them," she said.
She said she will continue her education in Salem, Tamil Nadu, where she is enrolled in a homeopathy course, and will decide later whether to take up a job or not.