Andhra CM Chandrababu Naidu says BJP wants weak allies that it can control
Updated on Apr 04, 2018 11:26 PM IST
TDP leader N Chandrababu Naidu said PM Narendra Modi's party was within its right to "dream about growing", but the way it dealt with allies was wrong.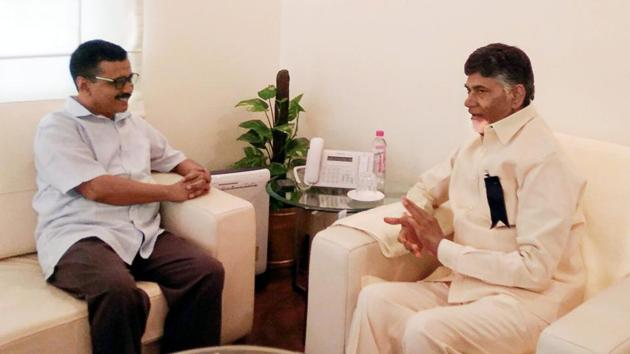 In his sharpest attack on the BJP after his exit from the Bharatiya Janata Party-led National Democratic Alliance (NDA), Andhra Pradesh chief minister N Chandrababu Naidu claimed in an interview that the BJP wants weak allies and 'tainted' people whom it can control. He claimed that the YSR Congress Party of YS Jagan Mohan Reddy had access to the Prime Minister's office and this government had "some connection" with the party.
The Telugu Desam Party (TDP) leader said Narendra Modi's party was within its right to "dream about growing", but the way it deals with allies is wrong. He also said that the people of Andhra were "wounded", had suffered and that it was the responsibility of all parties who had passed the Bifurcation Act to fulfil their promises to Andhra Pradesh. While remaining non-committal about his plans for 2019, Naidu said the TDP had always played an instrumental role in national politics.
The BJP rebutted Naidu and insisted it had done more for Andhra Pradesh than any other party.
Naidu has been in Delhi for the last two days to whip up support for his demand for a special category status to Andhra Pradesh, which the Modi government has refused citing constraints under the 14th Finance Commission. Since March 16, the TDP has unsuccessfully tried to move a no-confidence motion against the Modi government in the Lok Sabha that hasn't been taken up because of lack of order in the house. Naidu has met a range of opposition leaders and some NDA constituents. Delhi chief minister Arvind Kejriwal called on him on Wednesday morning.
"They (BJP) want some weak allies. YSR Congress is there. They supported this government for president and vice president even. They have cases in CBI (Central Bureau of Investigation), ED (Enforcement Directorate) and everywhere. Around Rs.43,000 crore fraud has been established by CBI. Now, every Friday, they are going to court. This government is having some connection with them. You can control tainted people, and at the same time, you can do harm for the state," Naidu said.
He said any "good leader" would do what he has done. "They [BJP] may not digest questioning or asking for our rights, as a regional party," he said.
The TDP leader said his party and the BJP had an alliance in Andhra Pradesh and Telangana, but the former ended it in Telangana abruptly even without informing him about it. "Is it fair? Without informing as ally can you do like that?" Naidu said. "Ambition to grow is one thing but doing things this way is not acceptable, not a correct approach." Naidu said the Modi government was "depending on TDP" and they should not have treated his party like this. "Ours was a pre-election alliance and it was a collective mandate that we got," he said.
When asked about the centre's argument that the 14th Finance Commission did not allow the government to grant special status, the Andhra CM accused the Modi government of "lying" and concocting "stories", and said the commission's chairman and members have said there was no such bar.
"There is a commitment for Andhra Pradesh. Bifurcation has been done in an unscientific way. Even today, without our mistake, we are totally denied our right. We have been punished..we are wounded," Naidu said.
The then Congress-led government had promised in the Andhra Pradesh bifurcation act a special category status for five years for the residual state of Andhra Pradesh post its bifurcation.
At a press conference later in the evening, Naidu made a powerpoint presentation to journalists on the unfulfilled promises and played out three videos of Prime Minister Modi seen promising a special category status and sufficient funds to build a new capital of Andhra Pradesh that would be bigger than Delhi.
"I joined NDA because Andhra Pradesh needed the Centre's handholding," Naidu said, suggesting that a Joint Committee of Parliament be set up to look into the demands of the state.
The veteran leader's visit to the national capital and his meetings with leaders of opposition parties has generated curiosity about his plans for the general election in 2019, but Naidu remained tight-lipped. "I am here to get justice for my state. I am not committing anything on 2019 election," he said.
He, however, claimed that the TDP had been behind "so many political experiments" and "initiating political process" in the past, such as a national front and the United Front, hinting at a possible role for it in national politics.
The BJP refuted Naidu's charge, claiming that its commitment towards development of the state was firm.
"One should not go to an extent that BJP is attacking Andhra Pradesh. We never attack any region or people. We do not attack erstwhile friends in an unfriendly manner," human resource development ( HRD) minister Prakash Javadekar said.
The senior BJP leader listed a series of central projects for Andhra Pradesh and said party chief Amit Shah ,in his recent letter to Naidu, had reminded him that PM Modi has gone beyond what was stipulated in the bifurcation act. Javadekar dismissed Naidu's charge as a political stand, and said he would not have been in today's position had he not entered into an alliance with the BJP in 2014.
"Somebody may take political stand, but to say we are going near to the YSR Congress is ridiculous. You (TDP) have 16 MPs, we fought together against Congress and now you (Naidu) are meeting Congress leaders," Javadekar said. "BJP is not in the habit of ditching friends. It is not in our DNA."
Responding directly to Naidu's comments, the YSR Congress Party tweeted, "While it's pleasing to see that you have finally woken up to the virtues of SCS (special category status) just a year away from polls, we take you back to the days when you gleefully surrendered AP's interest for a so-called special package."
Personalise your news feed. Follow trending topics