Arvind Kejriwal says EVMs 'fudged repeatedly', Congress knocks on Election Commission door
Arvind Kejriwal's AAP, Mayawati's BSP have alleged that EVM tampering was possible. The debate on EVMs started after elections in five states, including Uttar Pradesh.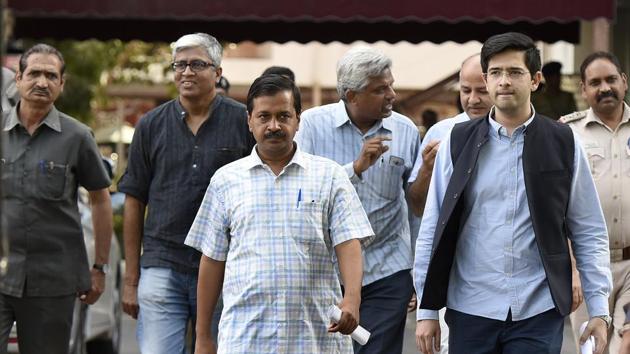 Updated on Apr 19, 2017 10:10 PM IST
New Delhi, Hindustan Times |
Aurangzeb Naqshbandi and Smriti Ramachandran
Delhi chief minister Arvind Kejriwal said on Saturday electronic voting machines (EVMs) were being "fudged repeatedly" in elections, remarks that came a day after the Congress party alleged EVM malfunctioning during a media demonstration in Madhya Pradesh.
Kejriwal, the Aam Aadmi Party chief, visited the Election Commission to lodge his protest against EVMs, reiterating that tampering of these devices was a "serious fraud".
Days before civic elections in the national capital and by-elections in some states, the Delhi CM also alleged that the software was being changed to make EVMs malfunction. He also demanded that the old ballot boxes --- where people cast their votes in papers --- should be brought back.
The chorus against EVMs gained momentum after the recently held assembly elections in five states.
Opposition parties, including the AAP and Mayawati's Bahujan Samaj Party, raised the issue, with some sections alleging that EVM tampering helped the Centre's ruling Bharatiya Janata Party. The Election Commission denied the charges.
"EVM tampering is possible. If there is no investigation, then how can we know the truth?" Kejriwal asked the media on Saturday.
The Election Commission will issue a statement later in the day. Agency sources said each machine undergoes a test three times and the faulty ones are sent back to the factory.
Congress on offensive
A delegation of Congress leaders, comprising Mohan Prakash, Digvijaya Singh, Jyotiraditya Scindia, Vivek Tankha and KC Mittal, too met Election Commission officials, expressing concern over the Madhya Pradesh incident.
Their move came after a paper trail attached to an EVM generated a receipt with the BJP's lotus symbol when an official pressed the button for the Samajwadi Party candidate during a trial ahead of a by-election in Madhya Pradesh next week.
"There is an extraordinary suspicion about the fairness of the EVMs post recently conducted elections – especially Uttar Pradesh and Uttarakhand. Apparently the polling in these states did not reflect the public mood and confidence as noticed by national parties," the main Opposition party said in its memorandum to the election commission.
The party demanded that the Election Commission should direct "impartial and unimpeachable" experts to revisit and re-verify the authenticity of all voting machines being deployed for two by-elections in Madhya Pradesh.
Close Story
Personalise your news feed. Follow trending topics