On Nepal's pull out from BIMSTEC military drill, India says move 'not convincing'
Sep 11, 2018 02:24 PM IST
Nepal's decision to pull out came just over a week after Kathmandu hosted a significant summit of Bimstec countries, which was attended by Prime Minister Narendra Modi.
India has expressed its displeasure at Nepal deciding to merely be an observer in a scheduled joint military exercise of Bimstec (Bay of Bengal Initiative for Multi-Sectoral Technical and Economic Cooperation) countries which kicked off in Pune on Monday, after having made a commitment to participate.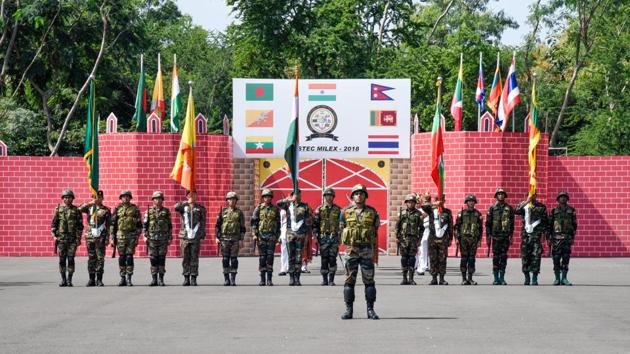 According to a person familiar with the development, New Delhi has told Kathmandu that its decision is not appropriate and its explanation of internal political pressure is "not convincing". Nepal's decision, conveyed on Friday, has put India and the regional grouping in an "embarrassing position", added this person, who asked not to be identified.
Stay tuned with breaking news on HT Channel on Facebook.
Join Now
Officially, neither the Ministry of External Affairs nor the Ministry of Defence have yet commented on the issue of Nepal's withdrawal as a full participant. A government official said on condition of anonymity that participation depended entirely on the comfort level of participating countries.
Nepal's decision to pull out came just over a week after Kathmandu hosted a significant summit of Bimstec countries, which was attended by Prime Minister Narendra Modi. Bimstec member states include India, Nepal, Bhutan, Bangladesh, Sri Lanka, Myanmar and Thailand. The exercise opened on Monday. An army spokesperson said its aim was to enhance Bimstec cooperation in planning and conduct of counter terrorist operations. "The exercise schedule is focused upon learning of best practices, team building & special tactical level operations in a counter-terrorist environment in semi urban setting."
On Friday, Nepal PM KP Oli called the Indian ambassador, Manjeev Singh Puri, in Kathmandu and conveyed to him Nepal's inability to participate in the exercise, the first person said. Oli cited "internal political pressure", according to this person. There has been criticism in both the Nepali political sphere, and in the media, of the country's involvement in the exercise with arguments centred on how the participation itself was shrouded in secrecy. Puri did not comment on whether he had been called in for such a meeting.
But Delhi was not happy with the explanation and conveyed it to the Nepali leadership, the first person added.
Distilling the Indian message that had been conveyed at the political level, the person quoted above said, "The Indian position is this was something in the works for a while. Nepal had agreed. A planning meeting was held much earlier. PM Modi mentioned it in his speech in Kathmandu in front of everyone on August 30. And suddenly, the Nepal government pulled out. It put everyone, including India, in an embarrassing position."
The Indian side also expressed surprise at Oli's specific reason of political pressure. "This is a strong government. It has a two-thirds majority. One chairman of the party, Pushpa Kamal Dahal 'Prachanda', was in Delhi. The other chairman is the PM who claimed that this is not something he wanted to do," said the person quoted above, outlining the view in Delhi. "At the level of the government, you can't give into what anyone says."
The Nepal embassy in New Delhi did not comment on the issue.
India and Nepal have seen a substantial improvement in ties in recent months, with frequent high-level exchanges. Modi visited Kathmandu and Janakpur in June on a bilateral visit, and was in the Nepali capital for the fourth time in his tenure for the Bimstec summit.
A former Indian ambassador to the country, who did not wish to be named, said, "This will not cause any rupture. But in diplomacy, trust deficit slowly builds up. Just see events over the last few days. On one hand, Nepal signs an additional protocol and gains access to Chinese ports; on the other hand, it refuses to participate in an exercise in India that involves India. The signalling is not good."