Assam to get updated citizen register today, security tightened across state
Hindustan Times, Guwahati |
Sadiq Naqvi
Jul 30, 2018 09:44 AM IST
The state has beefed up security arrangements although intelligence sources indicate no immediate aftermath.
As the Assam government gears up for the publication of the final draft list of the National Register of Citizens (NRC) on Monday, the state is leaving nothing to chance on the law and order front.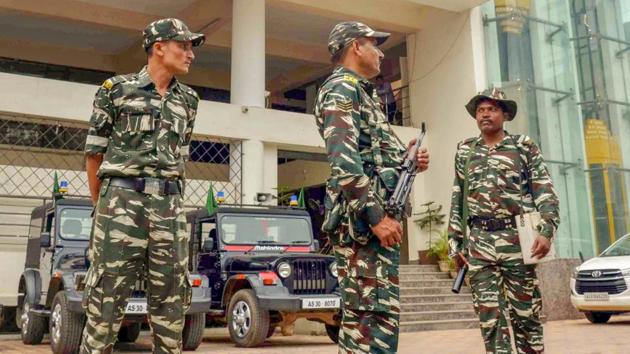 "If anybody tries to break law, they will be dealt with severely. We are expecting no trouble since there are no misgivings in the minds of the people. The process has seen whole hearted participation from the public," said Kuladhar Saikia, the Assam director general of police.
A top intelligence source, too, said they expect no trouble in the immediate aftermath of the publication of the final draft.
But the state has beefed up its security arrangements. More than 100 companies of central paramilitary forces have been requisitioned by the state in addition to the 85 companies already deployed across the state.
Interestingly, neighbouring Arunachal Pradesh and Nagaland, too, have beefed up security along their borders fearing an influx from Assam.
On Thursday, chief minister Sarbananda Sonowal held a meeting with all superintendents of police and deputy commissioners to review the law and order situation.
The state government has also initiated a mammoth exercise to reach out to the public to explain how they are remedies available to people left out of the final draft. The state police haves made sectoral plans in all districts, mapping the vulnerable areas. Apart from this the state has been divided into zones to be monitored by senior police officers, according to top police officials.
The law and order machinery has also been asked to keep an eye out for hate messages on social media platforms. A team of techies is aiding the state police to monitor social media platforms.
A man was detained in Hailakandi on Thursday after he posted a message on Facebook claiming the NRC has been ordered to exclude names of Bengali Muslims.
A senior police official claimed how possibility of communal violence continues to be a big worry. A recent statement by Union minister Kiren Rijiju that Hindu Bangladeshis who have come till December 2014 have nothing to worry has not gone down well in Assam.
"People's participation is a must to maintain law and order. We have asked all the police officers in districts to reach out to the village defence committees and citizen committees, village headmen to sensitise them," Saikia said.